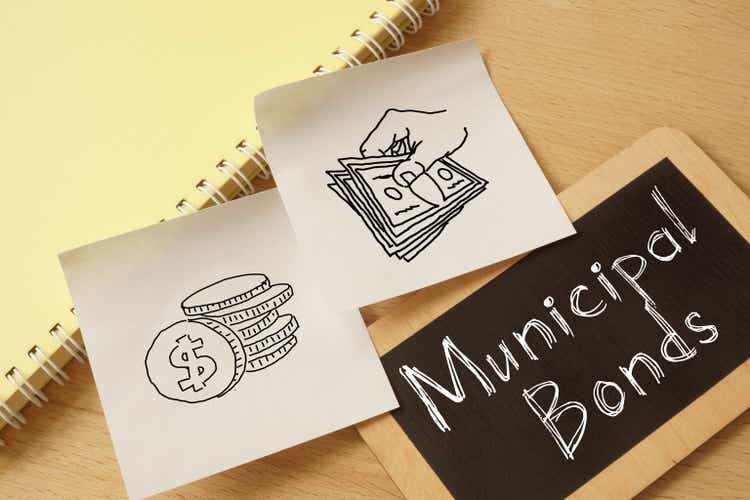 Written by Nick Ackerman, co-produced by Stanford Chemist. This article was originally published to members of the CEF/ETF Income Laboratory on January 8th, 2023.
RiverNorth Managed Duration Municipal Income Fund (NYSE:RMM) is another fund quite similar to RiverNorth Flexible Municipal Income Fund (RFM) that we recently covered. Despite the "managed duration" part of their name, that isn't the main difference. In fact, the fund has a longer duration at 7.92 years compared to RFM's 7.42 years. The main difference I noticed was that the tax character is often friendlier than RFM's.
RFM characterized large portions of its distributions as ordinary income. For a municipal bond fund, that's often not what one would be looking for or expect. RMM has historically shown a large portion to be "exempt-interest dividends," but also return of capital. While this ROC is destructive for the most part, it can also be tax-friendlier as it's a way to defer taxes.
ROC reduces an investor's tax basis, so it isn't taxed until a position is sold if, in such an event, it caused capital gains. However, with the negatives I pointed out in the previous article on RFM, capital gains should be hard to come by.
However, it should be noted that their last annual report indicated that a fairly sizeable amount could end up being classified as ordinary income. That's what we've seen with RFM in its short existence.
With a high duration, these funds were hit hard by interest rate hikes. They also carry sleeves of closed-end funds; with greater volatility, we've seen discounts open up significantly in the last year. That's both a positive and a negative as it meant worse performance, but now things are more attractive.
We then throw a high amount of leverage on leveraged CEFs, and things can get from bad to worse. Municipal bonds are supposed to be conservative, but they've made a way for them to act as volatile as high-yield bonds. The cherry on top is the high expense ratios relative to peers.
For all those negatives, I don't think these funds are a total avoid. Though admittedly, as I said in the RFM piece, I wouldn't invest in that fund or this one.
Here's why they could work; if interest rates stabilize and we can get some recovery in the broader market, these funds could do a bit better going forward. However, I believe that these funds are slow liquidation funds over the longer term. Since we last covered the fund, we have even seen some positive results, and on the fund level, its own discount has widened a bit. Quite recently, it was even at an 11% discount, so that would have been a good time to snag shares.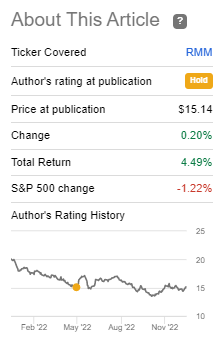 RMM has recently filed an N-2, which could mean new shares are coming to market. That can happen through a dividend reinvestment plan or an at-the-market offering. More disruptive on the fund are secondary or rights offerings that often put pressure on shares and push them lower. This fund sponsor has a history of rights offerings. So being more patient in picking up shares could offer a more attractive entrance price if they go that route. A rights offering could be quite damaging here since the fund is already trading at a fairly deep discount.
However, as I mentioned, for RFM, there is another option here. That would be if they filed this for issuing preferred stock. Preferred stock can carry a higher yield in terms of their cost for leverage. It would also mean a fixed rate, where RMM is currently paying leverage on a credit facility and tender offer bond floaters with floating rates. Ideally, this would have been done a year or so ago, but this manager has also issued preferred leverage for their other funds.
The Basics
1-Year Z-score: -0.79
Discount: -7.61
Distribution Yield: 7.21%
Expense Ratio: 2.24%
Leverage: 41.87%
Managed Assets: $557 million
Structure: Term (anticipated liquidation date July 25th, 2031)
RMM's investment objective "seeks to provide current income exempt from regular U.S. federal income taxes with a secondary objective of total return."
To achieve this, the fund can orient itself depending on the management's current closed-end fund environment level. They have defensive, neutral and aggressive. This is where MacKay comes in, as they manage the muni bond portion, and RiverNorth manages the muni CEF sleeve. They also allow up to 20% in taxable municipal securities.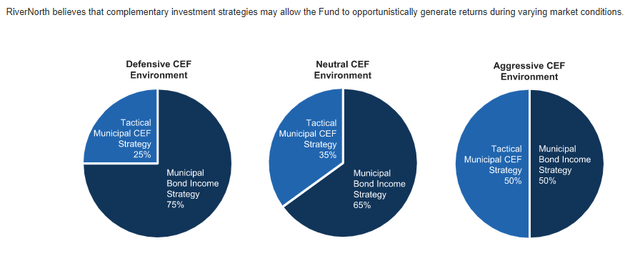 The fund is quite a bit larger than RFM, which can be great for a better daily trading volume. However, like RFM, the fund utilizes a high amount of leverage. At nearly 42%, we are looking at a large portion of these managed assets simply being borrowings. This also doesn't count the leverage that the underlying CEF sleeve carries. Those muni CEFs often have 40% leverage too.
When looking at RMM, they utilize TOB or tender option bonds, or "TOB Floaters." At the end of June 30th, 2022, the daily weighted average interest rate was 0.91%. They also have a small amount outstanding of borrowings at OBFR plus 80 basis points. At the end of the same period, it cost them an average of 1.13%.
Last year they paid around $1.7 million for their leverage. Rates had risen, pushing their costs to just over $2 million this year. Rates have risen higher since this reporting, meaning their expenses have risen further. That's one of the main headwinds for the fund because when including the interest expenses on their leverage, the expense ratio comes to 2.79%. However, other funds they carry are similarly operating with leverage that are seeing rising costs too.
One way to counteract this negative is that they sold short futures contracts on U.S. Treasury Notes. That has allowed them to offset the higher expenses through capital gains. In the last report, it was a hefty ~$28 million in realized gains brought in.
Performance – Discount Somewhat Attractive
Similar to RFM, the results of this fund haven't been anything pretty to look at. Albeit, neither are the results of the benchmark that it utilizes due to the same headwinds of rising interest rates.
Municipal bonds carry long maturities, and that often translates into long durations. That means they are more interest rate sensitive, with rapidly rising interest rates; that's why we see the results we see today. That's despite the fact that these bonds are supposed to be some of the safest debt being issued.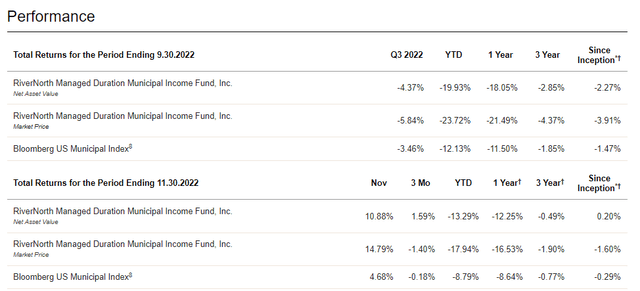 RMM has an edge where discounts can open up in CEFs. For muni CEFs overall, the discounts have widened considerably from where they were. At this time, the average muni CEF is trading at a nearly 9% discount.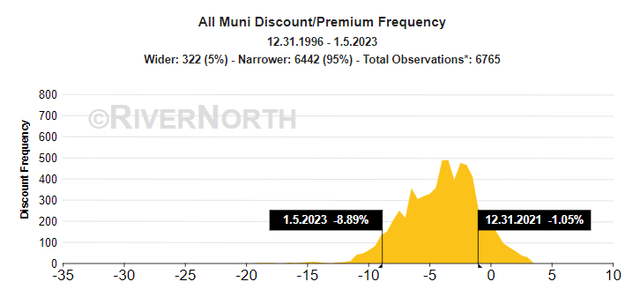 That would be on top of RMM's own discount, which is historically attractive. This is where RFM gets a bit more attractive with the deeper discount. Although, relatively speaking, the fund has traded at a bit wider of a discount on average.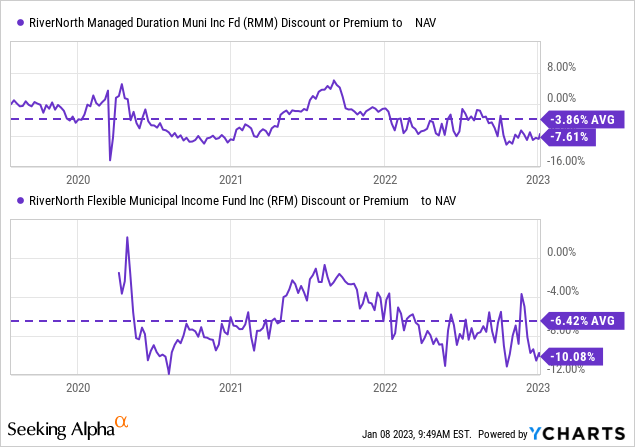 Some of that seems to be deserved too. For all their similarities, RMM has been the stronger performer in the short history since RFM's launch. Combine that with the tax-friendlier distribution classifications, and it does seem warranted.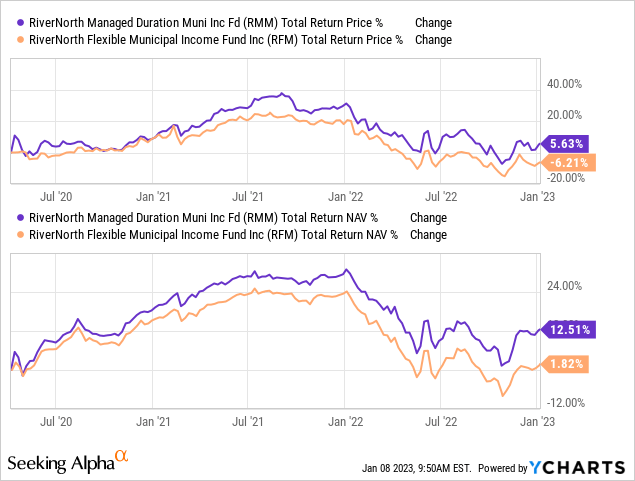 Distribution – Managed Distribution Adjustment
When declaring the latest distribution to start out in 2023, the managers changed their NAV target. Previously, they were paying out a 5.5% NAV reset at the end of the year for the following year. They've now upped this to 6.75%. This would be on top of the ~2% expense ratio of the fund that they have to earn to cover their distribution. Any year they don't produce results topping that is a year the fund will erode away a bit.
There was no reason given, but the simple assumption could be that yields have risen; they need to be more competitive now. However, I also suspect it was to minimize the reduction in the distribution heading into the new year.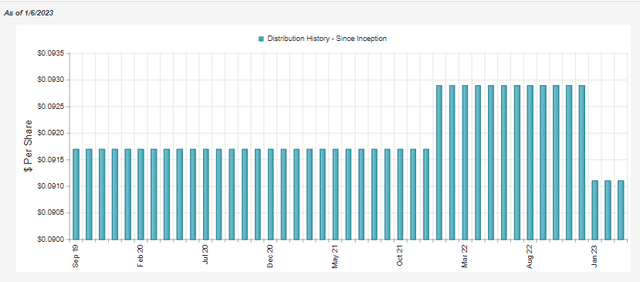 A negative here is that a managed distribution based on a target payout is to provide predictability. That takes a bit of that away from these funds now. Although, to the benefit of holding the payout at a higher level, so I could see an argument made otherwise.
Either way, the fund didn't cover the distribution through net investment income. So a further increase means coverage is likely to fall further. That's especially true with rising interest rate expenses for the fund. NII coverage came to 50.72% previously.
Where they made up the shortfall was through capital gains. The distribution has been covered in the previous years when factoring those gains. We typically want to see a fixed-income fund provide coverage from the income the portfolio is generating. However, being short those future contracts meant a significant amount of capital gains flooded in as rates rose rapidly.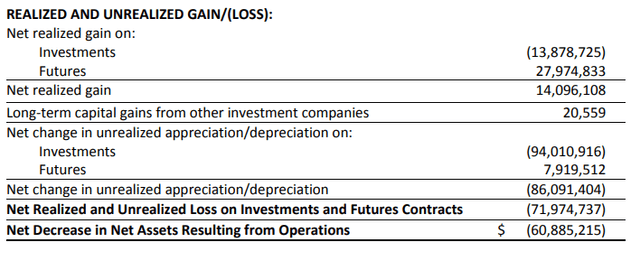 We shouldn't forget about the unrealized depreciation in the portfolio, though. As long as the NAV is trending down, that will add continued pressure to find those capital gains to cover the NII shortfall.
On the other hand, the fund's distribution classifications have been friendlier than RFM's. At least historically, that was another benefit of this fund, relatively speaking. RFM showed large portions of its distribution being identified as ordinary income historically.

Unfortunately, it would appear that RFM's own tax classifications in its fiscal year also contain a sizeable portion of ordinary income. We will get an official tax breakdown in the next month or so, but this is what we have to go off of for now. This could be highlighting a shift to taxable municipal bonds.

RMM's Portfolio
The latest breakdown of the portfolio is situated in a neutral CEF environment. To me, with discounts so wide, I would feel that being more aggressive could be warranted. However, this could also be factoring in the headwinds as long as the Fed keeps raising rates. And that's exactly what they are expected to do, at least for a couple more times into 2023.
Being such a highly leveraged fund and investing in other highly leveraged CEFs, it would seem to make sense to be more conservative. Additionally, this was the same positioning they were in May 2022. So it doesn't appear they are too active in shifting these allocations. Interestingly, that's not what their portfolio turnover rate would suggest, as it came to 109% in the last fiscal year.

Investment-grade bonds primarily dominate the portfolio.
When looking at the top exposure of the fund, we have to rely on the September 30th, 2022, fact sheet. It's a bit more dated than the November 30th, 2022, data we looked at above. That said, it doesn't matter much, as the top exposures carry some familiar names after each update.

It is, again, interesting to note because the turnover of the portfolio is so incredibly high in the last year. For example, previously, California was 18%, New York at 12%, Illinois at 10% and Texas at 8%. A new state to make its way on this list is Florida, replacing Pennsylvania, which showed up previously.
We also have both Nuveen AMT-Free Quality Municipal Income Fund (NEA) and Nuveen Quality Muni Income Fund (NAD) on the list once again as CEF positions. These are a common staple for this fund and the other RiverNorth muni funds. We also have Illinois State 5% on the list and cash. However, cash came down slightly from the 6% weighting prior.
NEA and NAD are two of the largest muni-bond CEFs. They are fairly straightforward, and it can make a lot of sense to have them make up the core of the portfolio essentially. In fact, I'd consider investing in NEA and NAD and circumventing these RiverNorth muni CEF sleeves.
However, note that NEA and NAD have been decreasing their distributions at an alarming rate. It's quite clear what we see here; the leverage costs on these funds are rising rapidly and eating away the income left over for shareholders. This is why we know RMM should also experience lower NII going forward as muni funds slash their payouts.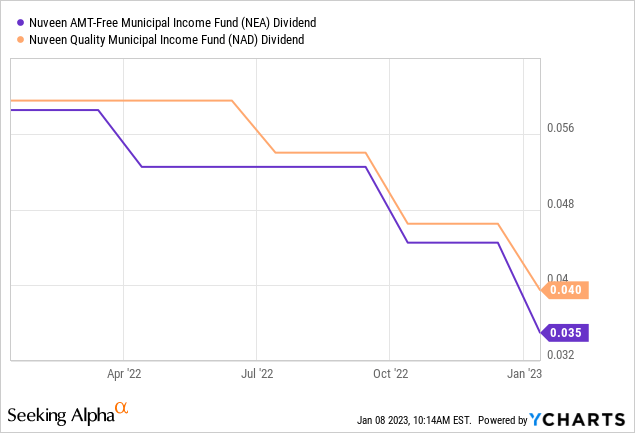 NAD carries an effective leverage ratio of 40.26%, and NEA is at 40.17%. Although, on the bright side, their discounts also widened out quite materially from a year ago.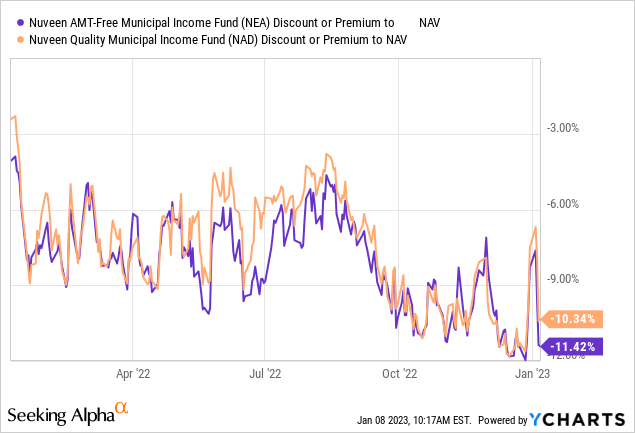 Conclusion
RiverNorth is an interesting fund sponsor, and these funds could be for certain investors. However, it would be great to see them get away from pumping out a muni CEF with this same hybrid approach. They've launched five now. One each year beginning in 2018, with RiverNorth Opportunistic Municipal Income Fund (RMI) kicking off the series.
Overall, RMM appears to have been more successful historically compared to RFM. That being said, both have a fairly short history, too. The high expense ratio and rising interest rates mean they are likely to continue to face pressure going forward.
RMM had been providing the tax friendlier tax-free and ROC distributions, but more recent signs show that ordinary income might be making its way in. Which could suggest a shift towards taxable muni bond holdings. So for those looking for muni exposure for primarily tax-free distributions, funds such as NEA and NAD are likely the much better option.
Editor's Note: This article covers one or more microcap stocks. Please be aware of the risks associated with these stocks.