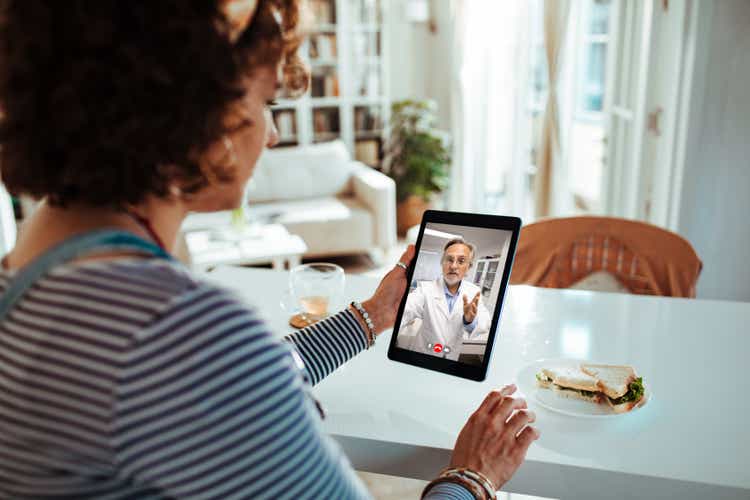 Our previous analysis of Teladoc Health, Inc. (NYSE:TDOC) stock suggested that the company's components would coalesce, which could cause the stock to rebound. However, after losing more than 40% of its value, we've revised our stance and still believe it's a strong buy due to valuation, operational, and pricing indicators.
Although the telehealth space and Teladoc alike are high-risk, we think long-run returns on this stock will be magnificent. Thus, our analysis is based on a 12-month outlook at a minimum.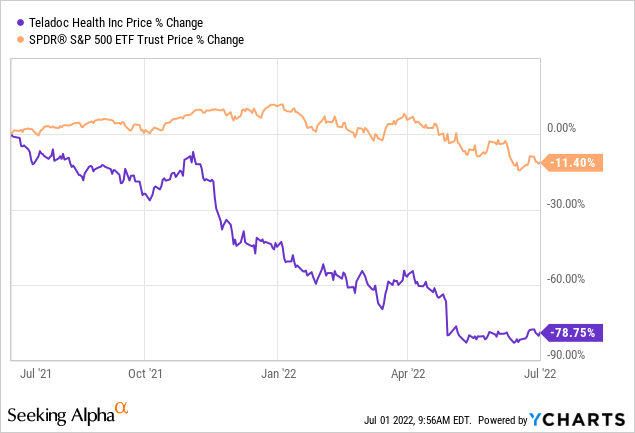 Operational Prospects
Teladoc's inability to curb costs has led to poor EBITDA and return metrics, in turn scaring off many investors. However, it needs to be considered that much of the firm's expenses have been related to depreciation and amortization; in fact, Teladoc's D&A made up 8.8% of the company's first-quarter post-EBITDA costs. In addition, as Teladoc is an acquisition vehicle that acquires high-growth companies at premiums, goodwill and impairment made up for a nearly 90% of post-EBITDA costs.
Impairment has been a central issue for Teladoc, as it was forced to reduce the value of its assets due to a changing market. Teladoc utilized a 75%/25% income to market-based impairment adjustment as it believed its assets are better valued based on future income.
Although impairment on long-lived assets can't be reversed, its cost isn't sustained into perpetuity. Thus, it's likely that the worst is behind Teladoc.

Even though there's been income statement compression, top-line revenue is still intact. The company's paid members have risen to 54.3 million from 53.6 million in the previous quarter. In addition, Teladoc's average revenue per member has risen by $0.03 quarter-over-quarter.
Furthermore, Teladoc's Livongo acquisition has proven successful. Livongo's cumulative member data points now stand at 2.75 billion, a significant increase from 1.46 billion a year ago.
Teladoc addresses a promising market with a 23.5% CAGR forecasted until 2026. The firm holds down an approximate 13% market share, allowing it to execute pricing and bargaining power in the industry, which is conveyed by its 67.76% gross profit margin.
Recent acquisitions such as Livongo, InTouch Health, MedecinDirect, Tele Dietitian, Advanced Medical, and Best Doctors helps it roll out a horizontally integrated business model that shares human and financial capital to expand the company's market share. Although there are generally inefficiencies with acquisition vehicles such as Teladoc, Teladoc's various subsidiaries will likely coalesce in the long run, subsequently creating a dominant market dominance.
Value Prospects
Needless to say, a relative valuation can't be completed without observing an array of price multiples. However, Eugene Fama and Kenneth French officially classified value stocks according to book value in 1993, which has held true across industry professionals ever since. Thus, when a stock is trading below its book value, we'd usually say it's a value stock.
Teladoc stock trades at a 1.72x discount to its book value, officially classifying it as a value stock.
Why does Teladoc's value status give it an edge in today's market? Because value stocks have outperformed the S&P 500 on a normalized basis since the turn of the year. In fact, value stocks almost always exhibit relative outperformance whenever inflation and interest rates are high. Thus, it's possible that Teladoc could be one of the outperformers when we see the broader market rebound.
Price Level Analysis
I'm not a big fan of technical price discovery. However, based on my analysis of the stock's price movement, I feel as though Teladoc could be a technical matter.
According to Mark Carhart, momentum is a prevalent market influencing factor. Earnings surprises can initiate price momentum, and Teladoc's three straight earnings-per-share target misses likely had a significant impact on the stock's more than 60% year-to-date price capitulation.
Advancing the argument. Technical price movement suggests that Teladoc could have bottomed out for now. The stock's price has stabilized over the past month with an approximately 3% downside experience.
As drawn on the chart below, there's a key support level at $35 per share, which could last until resistance is experienced near $90 per share. I wouldn't recommend considering technical analysis in isolation, but intertwined with the rest of the thesis, it could be helpful.
Key Risks
Teladoc operates in an industry that's still in an embryonic phase. The industry isn't providing lucrative returns to investors and is high-risk, which is conveyed by the company's poor return on common equity ratio of -55.29%. I believe it will be a while before investors receive justified residual on their investments in the telehealth space, meaning that Teladoc runs the risk of not being an appreciated asset for quite some time.
Furthermore, Teladoc's quantitative risk metrics suggest that it provides a poor risk versus return profile. The 5% monthly VaR of 25.59% implies that 25.59% of your capital is at risk for 5% of this stock's traded months. Moreover, Teladoc's Sharpe Ratio is below 1.00, implying that its expected returns underscore market volatility.
Concluding Thoughts
Teladoc is officially a value stock after its humungous drawdown in the past year; much of the stock's capitulation was due to an impairment losses event. However, even with its write-downs, Teladoc's operations are growing rapidly and the firm holds down an extensive market position in the telehealth space. Lastly, a technical analysis explains why the stock could've slipped for an extended period of time and conveys a lucrative entry point.