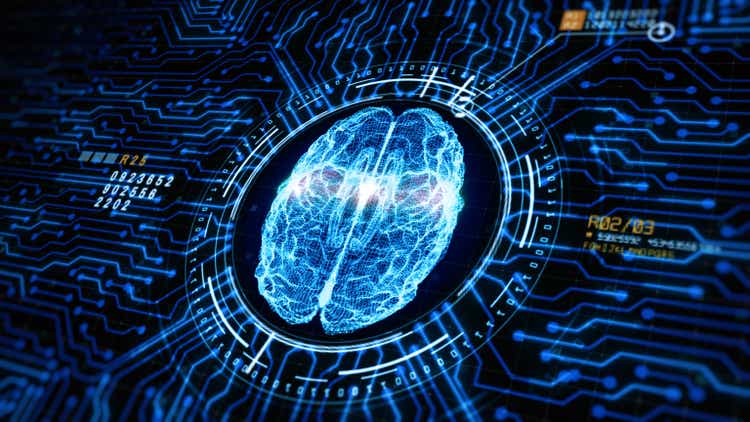 About This Report
This is a long/short report for Palantir (NYSE:PLTR) vs C3.ai (NYSE:AI). The predominant focus of the report is on the short side, with quantitative and qualitative analysis on C3.ai to present the various red flags investors need to be mindful of. Spruce Point Capital Management published a very insightful short report on C3.ai in February 2022, and a significant part of their analysis helped guide our own investigations. Therefore, the short side of this report consists of our own primary research and analysis and also the verification of some of Spruce Point's findings.
We'll initially review C3.ai's apparent financial struggles, then compare PLTR's and C3.ai's AI/ML capabilities, dive into the Baker Hughes JV saga, compare the earnings quality between PLTR and C3.ai, then take a look at some of C3.ai's business claims, the CFO turnover, the corporate governance, C3.ai's IPO journey, both company's presence in developer communities and their corporate cultures, and finally summarize the bull thesis for PLTR and the bear thesis for C3.ai.
C3.ai 4Q22 Earnings Overview
We think the near-term financial outlook for C3.ai looks dire. The following table highlights some oddities in red to help with this analysis. Firstly, C3.ai's major JV agreement with Baker Hughes was amended for a third time on 31st October 2021 (last day of 2Q22), and it was a significant change involving the reduction of annual commitments, pushing out peak revenue, adding in variable consideration (discounts/concessions), and removing the non-cancellable revenue component from the JV. It certainly looks like BKR is trying to wriggle away from the JV, and as part of the third amendment it appears as though it was agreed that BKR will make an earlier than scheduled payment in order to get future leeway in the deal. As a result, in 3Q22 accounts receivable shot up along with DSO.
In the 3Q22 earnings call it was mentioned that C3.ai had closed over $250m of business with Microsoft and had made a 5-year transaction agreement with the Department of Defense. Some of this considerable business should have been reflected by increases in deferred revenue (either current, noncurrent, or both), but instead deferred revenue continues its downward decline. In fact, it looks extremely odd to see such a small amount in noncurrent deferred revenue for a sizeable amount of RPO and the aforementioned Microsoft and DoD business. We think that this highlights the exaggerated business claims C3.ai seems to be making – more on this later. We surmise that most of the business claims are non-contractual and subject to undisclosed terms or milestones.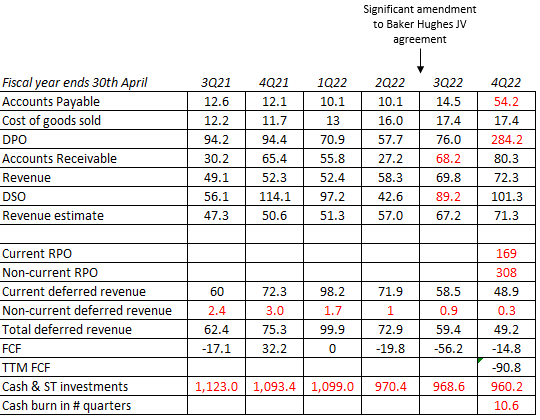 The decline in deferred revenue will have negatively impacted C3.ai's FCF, which is probably why C3.ai has delayed paying its suppliers in 4Q22, as indicated by the 4x increase in accounts payable and DPO.
As a result of poor FCF generation, C3.ai's cash and ST investment balance has been on a steady decline. As of 4Q22, at the current cash burn rate you can see in the above table that C3.ai has just 10.6 quarters of cash to use.
A major part of the poor FCF generation is C3.ai's go-to-market – they are spending c. 90% of revenue on S&M but only growing c. 40%. In the 4Q22 earnings call, founder and CEO Thomas Siebel, gave FY23 revenue growth guidance of just 25%, significantly below the consensus estimate of 33%. Though, in attempt to divert attention away from the sharply decelerating growth, Siebel and his team submitted FY23 non-GAAP operating margin guidance of -24% that is significantly better than prior guidance. Furthermore, in the 4Q22 call Siebel pivoted to targeting positive FCF (earlier than previously planned) and implied C3.ai would reduce advertising expenses to achieve this. The problem, however, as we'll dig into later, C3.ai doesn't have a solid reputation in the AI space that can afford it to slowdown S&M spend.
So, to us C3.ai is between a rock and hard place. If they now focus primarily on FCF margin over growth then their market share will decline and may end up producing less FCF in absolute terms. If they keep spending big on S&M with seemingly poor product-market-fit then that will continue the cash burn.
How does this compare to PLTR? Well, PLTR has $2.5bn in cash and ST investments and is FCF positive (TTM FCF is $225m) so they are financially very secure. Also unlike C3.ai, PLTR's margins are moving in the right direction and the company is generating a respectable TTM Rule of 40 of 50%+ whilst C3.ai's Rule of 40 is barely positive.
AI/ML – PLTR And AI Are Not Comparable
At the surface, or after having a brief read of the two companies' market material, one would assume they have similar capabilities in AI/ML. A guy at Motley Fool has fallen right into this trap and put C3.ai in his top 5 AI stocks to watch, and to our disbelief, hasn't included PLTR. Though, all it requires is a little bit of digging to discover some significant differences.
Due to its origins in working for the U.S. government, PLTR has needed to develop native AI applications because of the prohibition of using unauthorized third-party solutions. Consequently, Gotham (the OS for government clients) and its applications was created with AI/ML functionality developed in-house, and this approach has expanded into Foundry (the OS for commercial clients).
On the contrary, to deliver AI, C3.ai utilizes third-party solutions including proprietary and open-source tools such as TensorFlow, PyTorch, and Spark MLlib. This contrast in native versus third-party extends beyond AI/ML into other solutions such as visualization – for instance, PLTR has home-grown visualization tools (Graph and Gaia for Gotham; Monocle and Contour for Foundry) whilst C3.ai uses Tableau. The reliance on third parties introduces additional risk and by not having IL6 (Impact Level 6), despite C3.ai's claims, they are not likely doing a lot of business with the U.S. government. In fact, at the moment they are only FedRAMP Ready which only means the vendor is ready to begin the authorization process.
Another key difference between the two companies relates to the data foundation in which AI applications are built atop. As we explained in a previous Seeking Alpha article, PLTR excels in creating custom ontologies for organizations that provide a clear view of all the relationships between assets and data. This creation of company-wide ontologies enables organizations to develop digital twins of their operations, which in turn lays a robust foundation for the development and execution of sophisticated AI/ML models as well as other business use cases.
C3.ai, on the other hand, appears to have a narrower scope as it relates to the data foundation. Each one of their 42 AI applications, including inventory optimization, energy management, and production scheduling, connects to data sourced from various IoT, systems, and third-party apps. Though, it appears the data only funnels into these AI applications, rather than meshing together to form an ontology-based foundation. As a result, we strongly surmise that each one of C3.ai's applications has a much narrower view of an organization's entire data and hence will be lacking the context enrichment that is provided by building AI applications with PLTR.
Ultimately, for clients and investors this means that there are, and will be, notable differences in the quality of AI delivered and in the amount of value that the two companies can generate. PLTR has native AI/ML facilities for organizations to build AI applications on top of a customized ontology, which is going to generate more sophisticated, context-rich applications that deliver better business outcomes. C3.ai can provide value for organizations but their AI is lacking the cutting-edge as they are using pretty standard ML frameworks, and on the whole, they seem to be just an orchestration platform that pulls in data from third-party systems and applications and then runs that data through non-native open-source ML tools. Really, given enough time and resources, most skilled software engineers with ML training could do this themselves. And as we'll cover later, this is probably fundamentally why C3.ai's adoption is so slow.
Revenue Quality & The Baker Hughes JV
The following table shows C3.ai's DSO is way more variable than both PLTR's and AYX's (we added in AYX because they are a data, analytics, and ML peer). It is particularly worrying to see C3.ai's DSO swing on a quarterly basis by this magnitude. Note: C3.ai's quarter ends are July 31st for Q1, 31st October for Q2, 31st January for Q3, and 30th April for Q4. Also note that C3.ai's DSO is different in here compared to the previous table because this one is based on average accounts receivable.

As pointed out earlier, it looks as though the quarterly volatility in C3.ai's DSO is largely attributable to a significant change in C3.ai's JV agreement with Baker Hughes. In 2019, C3.ai entered a JV agreement with Baker Hughes that would bring in $320m worth of minimum non-cancellable revenue commitments for C3.ai over three years. Currently, Baker Hughes revenue represents c. 30% of total revenue.
In total, this JV agreement has been amended three times. After the second amendment the minimum non-cancellable revenue commitment schedule was as follows:
From the original JV agreement to the second amendment (the first amendment was immaterial), you can see that the minimum annual revenue commitments were drastically reduced and the term was extended by two years.
The third and most detrimental amendment for C3.ai occurred on 31st October 2021. The following extracts show the second Amendment in 1Q21 and the third Amendment in 2Q22. In the third Amendment the reference of minimum non-cancellable revenue commitments has been removed, annual revenue commitments have been reduced, and the JV term has been extended again to six years.
Given the third Amendment was officially signed on the last day of 2Q22, it's difficult to pinpoint exactly when, how, and by how much, the JV changes have impacted C3.ai. However, as Baker Hughes represents c. 30% of C3.ai's revenue, major changes like this will have had significant impacts on the business, the revenue, and related metrics such as DSO. By looking at the following accounts receivable and DSO and seeing how they nosedived in 2Q22 (quarter ending 31st Oct), we can infer that Baker Hughes has made a large payment to C3.ai as part of the renegotiations to get out of future minimum non-cancellable revenue commitments – and this aligns with the above text highlighted in purple.

As indicated by the above text highlighted in blue, as part of the amended JV C3.ai has given itself more leeway in recognizing the Baker Hughes revenue going forward. This is another red flag and might offer an explanation as to why accounts receivable and DSO has bounced back so sharply in 3Q22 and 4Q22.
In the 10-Q for 4Q22, C3.ai added a new risk factor that appears to give Baker Hughes some leeway should they fall short in meeting their obligations. As highlighted in red text, this is the first time that variable consideration has been mentioned in the JV agreement and its amendments. This is a very strong indicator that C3.ai will be giving discounts and/or concessions to Baker Hughes and resales to Baker Hughes clients.
To summarize, C3.ai's current and future revenue appears to be of very poor quality. About 30% of revenue is coming from the JV with Baker Hughes, and apparently from the evidence presented above, Baker Hughes wants to wriggle out of the deal. Annual revenue received thus far from the JV has drastically declined compared to the original and amended commitments, peak annual revenue has declined and been pushed farther out, minimum non-cancellable revenue commitments have been removed, variable consideration has been introduced to the latest version of the JV, and C3.ai has added in a new risk factor and given themselves more discretion in recognizing future revenue from the JV – so many red flags from this JV alone.
Earnings Quality
After the Baker Hughes JV investigation, you probably won't be surprised that C3.ai's earnings are also of poor quality. Below we present analysis associated with the earnings quality of PLTR, C3.ai, and AYX. The approach has been taken from Gullet, Kilgore, and Geddie of the University of Tennessee at Martin. The determination of a company's earnings quality is based on the scale below.

Admittedly, this method isn't ideal for GAAP loss makers but it still highlights the difference in quality and the difference in paths toward profitability between PLTR and C3.ai. The following table shows that PLTR had a poor EQ Score of -13.4 in FY19 (t-2 FY), but that has radically improved in the two subsequent years. Take the current EQ Score of 12 with a pinch of salt because doing the CFO/EBIT calculation when CFO is positive and EBIT is negative is not possible, and so we've arbitrarily made this component score 5 when this occurred. However, as shown on the bottom row, even when excluding the CFO/EBIT calculation, PLTR scores an above average EQ in the latest fiscal year. In contrast, C3.ai's EQ Score has deteriorated from being positive in FY20 (t-2 FY) to being -3 (or -3.45 when excluding the CFO/EBIT calculation) in FY22 (latest FY).
Business Claims
Spruce Point Capital Management has done some investigative work into C3.ai's business claims. A key pillar of C3.ai's marketing strategy is to frequently announce partnerships, either new or extended ones, with tech giants and other prominent institutions. However, unlike PLTR that often includes financial details about new and extended partnerships – such as the term and contract value – C3.ai doesn't and keeps the content of the press release very generic. Below is some of Spruce Point Capital Management's findings regarding some of the larger partnerships C3.ai claims to have.
We did some verifying to either support or undermine Spruce Point's findings. In regards to the C3.ai's HPE claim, via our own search we verify that it is unlikely that any partnership for the ProLiant servers ever existed. However, C3.ai does appear to have now made a legitimate partnership with HPE for manufacturing use cases. Earlier this month, Thomas Odenwald, the Head of Sales & Business Development at HPE for AI/ML Solutions, tweeted about the partnership between HPE and C3.ai.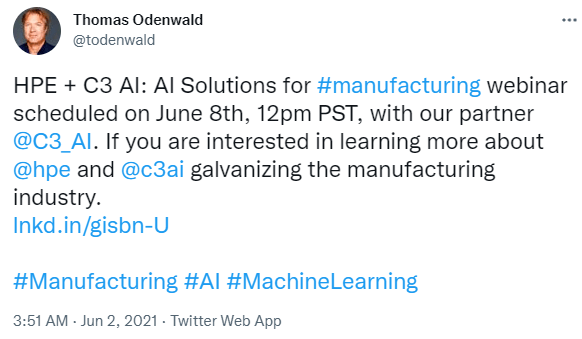 The Intel claim is another exaggeration. As per Spruce Point's comments, there is very limited evidence that a partnership exists or existed. Below is all we could find on Intel's website that makes any reference to C3.ai. The original press release back in 2018 might have been genuine (there is a quote from an Intel executive), though it certainly hasn't blossomed into any meaningful business for C3.ai. In fact, when we searched for C3.ai on Intel's partner marketplace it returned 'no results'.
With respect to the Google partnership claim, we see it exactly how Spruce Point has. We visited the Google Partner site and searched for partners that do IoT, ML, and predictive maintenance, and only found Cloud Ace and Softserve. And this is quite alarming because predictive maintenance is C3.ai's expertise, having numerous customer case studies on its website showing this.
To find C3.ai on Google's Partner site you need to type in the company name and search. When you do, you'll find the following introduction to C3.ai – certainly not a glowing introduction.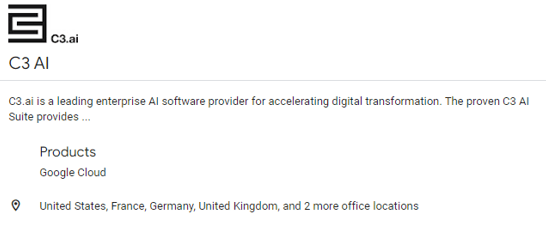 Confusingly, Google Cloud CEO Thomas Kurian and C3.ai founder and CEO Thomas Siebel have done a couple of YouTube videos to promote a new partnership. This is clearly at odds against Spruce Point's comments, our own gut feelings, and any other evidence presented thus far. Our only explanation is that Kurian has been sucked into C3.ai's marketing hype and Siebel's billionaire status as a consequence of his desire to transform Google Cloud's fortunes by making it the hyperscaler for industry-specific use cases. Watch the videos and you'll hear him frequently mention industry-specific use cases, as it is this space in which he believes Google Cloud can outcompete AWS and Azure and gain more market share. And every single bit of C3.ai's marketing is about enterprise AI applications serving particular industry use cases, thus making what appears to be a perfect match for Google Cloud.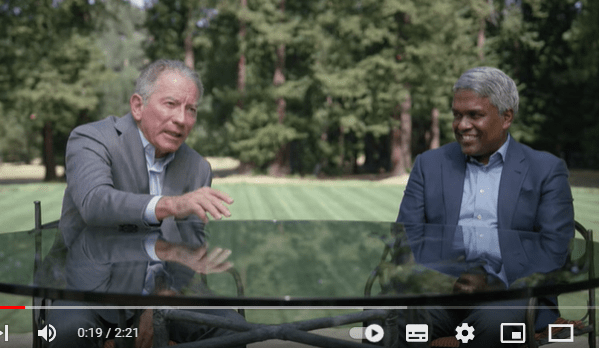 We're not saying the partnership will not benefit customers, but we have serious doubts about the true value that will accrue to C3.ai. They are not a cutting-edge AI innovator so that is a mismatch with Google Cloud right off the bat. Secondly, as previously mentioned they are merely an orchestration platform with very little home-grown tools. They need numerous third-party solutions to produce any value and hence we don't see that adding C3.ai into the stack is cost effective. They aren't a replacement vendor that can drive down costs, they are adding to organizations' cost whilst providing little incremental value. Another thing investors should consider from this partnership, is that if C3.ai is using the full suite of GCP (not just the IaaS but also the PaaS and SaaS), then it kind of signals that C3.ai is lacking in its own AI/ML and data capability. In contrast, PLTR doesn't need to lean on the cloud providers to this extent.
We think Spruce Point's criticism of C3.ai's Microsoft partnership is unfair because they can be found on the Azure marketplace in the ML section, and it's not expected that sales agents will be familiar with every one of the hundreds/thousands of partners. Furthermore, in Oct-20, Microsoft published a press release to promote C3.ai CRM, which is a collaboration between Microsoft, C3.ai, and Adobe to deliver the first AI-first CRM system. So, there is definitely something meaningful there, however, given the zero customer case studies for CRM, zero demo or promotional videos on YouTube, and zero mention of the CRM system in the recent earnings call, we strongly suspect that adoption has been very slow.
Lastly, we think Spruce Point is somewhat unfair with their AWS comment because C3.ai can actually be found as a competency partner for ML.
CFO Turnover & Lack Of Disclosures
Spruce Point has done excellent investigative work into the CFO turnover at C3.ai which we will verify and present in the following text. Since its filing for IPO in Dec-20, C3.ai has had three CFOs, and there are various omissions and red flags associated with these CFOs. Firstly, the current VP of Investor Relations, Paul Philips, was the CFO from Jan-17 to Jun-19 but omits this role from his LinkedIn profile.
Marc Levine (currently CFO of cybersecurity firm Tanium) replaced Philips and was the first CFO of the IPO filing process, and his signature was on the first draft prospectus but none thereafter and according to his LinkedIn profile he left two months before the IPO.
Following Levine's resignation, David Barter, a former Microsoft finance executive, became the CFO to push through the IPO. Though, he resigned in Dec-21, shortly after the third amendment to the Baker Hughes JV.
The next CFO was Adeel Manzoor, who served from Dec-21 to Feb-22. It could be coincidental but it looks as though Spruce Point's report on C3.ai, which was originally released in Feb-22, could have been the impetus for his resignation. The report mentions his charges for domestic violence and him serving as CFO for Telenav whilst the firm had to submit an NT 10-Q form to the SEC to communicate it has material weakness in its internal controls for financial reporting. Perhaps he read the entire report and decided it was too much heat to handle.
And lastly, the current CFO is Juho Parkkinen. With his CPA (Certified Public Accountant) he is certainly well qualified on paper, though to us his recent rapid career progression indicates C3.ai is becoming desperate. Appointing experienced CFOs is clearly not working out because once they see the mess or what they are expected to cover up, they make a swift exit. It now seems that C3.ai has put the responsibility on someone with less experience but who is maybe more impressionable.
In addition to the rampant CFO turnover, according to Spruce Point, C3.ai has failed to disclose departures of certain executives including Chief Marketing Officer Bruce Cleveland, General Counsel Brady Mickelsen, and President and Chief Revenue Officer Sam Alkharrat.
Corporate Governance
Again, great research by Spruce Point into the Board at C3.ai, and this is the last time we'll reference them as in the next sections we focus purely on our own findings. In short, C3.ai's board is packed with long-time business associates of Siebel that raises questions around impartiality.
Condoleeza Rice and Mike McCaffery are Director and Chairman of Makena Capital, which has managed financial assets for the Siebel's family foundation. McCaffery was Audit Chair for KB Home in the late 2000s, and then the company submitted a non-reliance clause (a statement within a contract that prevents a party from relying on certain representations made before a contract was entered into) and took large asset impairments one year following his departure.
Patricia House served on the board of Siebel's private holding group First Virtual Group, and was once the Audit Chair of Shutterfly that issued a non-reliance statement shortly after her departure from the board.
S. Shankar Sastry is currently the Thomas Siebel Professor of Computer Science at UC Berkeley, which is another board appointment that raises the question of impartiality.
And finally, there is no clawback policy in place to protect C3.ai shareholders from fraud or financial misconduct. Again, so many red flags that it is almost unbelievable.
For readers, the corporate governance may not be a defining catalyst for the long/short trade because PLTR has a very unfriendly shareholder governance structure. Nonetheless, for us it's the lack of disclosure that is most worrying with regards to C3.ai and its corporate governance.
C3.ai's Name Changes & IPO Journey
The company name changes imply that Siebel is prone to chasing trends. In 2009, the company was founded with the name C3 Energy, presumably to take advantage of the then sky-high oil prices and the emerging smart grid themes at the time. In 2017, Siebel changed the name to C3 IoT, which was certainly the period in which we saw the first wave of IoT hype. And then in the same month C3 signed the $320m JV agreement with Baker Hughes, Siebel changed the name to C3.ai.
Until the latest name change, C3 IoT was predominately a predictive maintenance provider that utilized ML but was far from a fully-fledged AI company. The name change will have undoubtedly forced itself to expand its ML and AI capabilities but at the end of the day they still are not an experienced broad-based AI company.
We're being cynical but think it's possible that Siebel had the IPO and dollar signs in mind as soon as the Baker Hughes contract was signed. A few months after the Baker Hughes deal, at the Transform conference Siebel boasted that C3.ai was experiencing 143% bookings growth, but if you remove the Baker Hughes deal it would likely be flat to negative growth. Then, during the tech stock euphoria of the pandemic, Siebel saw it was an opportune time to leverage the new name and the Baker Hughes deal by taking C3.ai to an IPO. And enroute to the IPO, Siebel changed the Total Addressable Market that C3.ai is targeting several times.
The icing on the cake was Siebel began selling C3.ai stock as early as three months after the IPO, which highlights there was no 180-day lockup period, and just supports the view that his primary objective has been to cash out big. Of course, it has been widely reported that PLTR's Alex Karp and other founders also cashed out following the IPO, but with the surrounding context, the zero clawback policy, and absence of a 180-day lockup period, we think Siebel's actions are borderline market manipulation for one's own financial interests. Here is a timeline summarizing name changes, equity stakes and IPO stuff, and the Baker Hughes related events.
One of the major red flags that suggest C3.ai is now in commercial strife is CEO of Baker Hughes, Lorenzo Simonelli, having stepped down from the board in Dec-21. When you combine that with the third amendment of the JV, it's clear that Baker Hughes is gradually creating some distance from C3.ai for what we suspect will be an eventual exit entirely from the business relationship. In fact, a few days before the third JV amendment was signed, Baker Hughes announced an investment in and a multi-year alliance with Augury, a machine health solution provider that utilizes data, analytics, and AI/ML, to do pretty much everything C3.ai has been doing for them.
Developer Documentation, Blogs, YouTube, Customer Case Studies
Any software company that aims to be a market leader should be working hard on all of these mentioned in this subheading, as these are the channels in which to connect with developers, business executives, and the general public at large.
PLTR excels in all of these. The recently added site for all Foundry documentation is very impressive and in due course should be a great source of bottom-up adoption. PLTR's website blog and Medium blog are very active and the posts do a good job at explaining the technology behind many of PLTR solutions. Additionally, the YouTube content is also very helpful for developers, engineers, and non-technical people for getting to understand the capabilities of the software better. And their customer case studies offer substantial variety and granularity so the reader can get a broad and deep understanding of the benefits they can provide.
C3.ai is very poor at all of these. Unlike PLTR, C3.ai does not provide a publicly available site for developer documentation. There is a developer portal, but you need to be an existing customer or partner of C3.ai before you can gain access. C3.ai has a blog but posts are very infrequent and many appear to be repeats of the press releases. Their YouTube channel is really poor – the content just consists of 50 second videos of employees being forced on camera to say how great it is to work there. And C3.ai's customer case studies are extremely repetitive, mainly because they are mostly from industrial clients that have used C3.ai for some type of predictive maintenance, and full of buzz/hype words. Despite, C3.ai claiming to be the pioneer of CRM, they don't have one CRM customer case study.
Overall, it is very difficult to gain granular insights as to what C3.ai can do for customers because of the lack of content, lack of specificity, and a lack of online presence, in general. Think of any leading or up-and-coming software company, and they are very good at connecting with the community, especially the developers. Therefore, it has been great news for PLTR investors to see the company recently add all the Foundry documentation details for developers and the general public. It's unlikely we're going to see C3.ai follow suit.
Culture
From reading numerous Glassdoor reviews there appears to be significant cultural and management differences. In fact, we would say PLTR and C3.ai are polar opposites in this regard. The main gripes I read about PLTR relate to the flat organizational structure and the laissez-faire management style that fails to provide employees direction and help in solving problems. The predominant complaints at C3.ai relate to a micromanagement culture.
Aside from the management style, generally the negative reviews at PLTR are associated with office politics whilst the negative reviews at C3.ai pertain to uninteresting work that is usually not related to AI. Both of these types of gripes are potentially toxic, but seeing the C3.ai reviews support our prior belief that they are not a cutting-edge AI player – and that most skilled software engineers could do what they do.
The browsing through Glassdoor was also interesting because of the blend between positive, negative, and neutral reviews. We found that PLTR has a fair blend of all types of reviews and we don't recall seeing an overtly fake 5-star review that makes things sound too good to be true. On the contrary, C3.ai's reviews were mostly 5-star (many that appeared fake) or 1-star, with few in between. Below are a few cons from 5-star C3.ai reviews – there are many more of these.
To help build more of a vivid picture of what's going on behind the scenes at C3.ai, we've screenshotted a part from the Spruce Point report that shows a question and answer between Tegus (a primary research provider) and a former C3.ai employee. Being almost invisible in the AI world, 12 years after the company's inception, probably supports our earlier observation that C3.ai really only has little experience in doing AI outside of predictive maintenance and energy efficiency.
The following screenshot is a question and answer between Spruce Point themselves and a former sales executive, in which the latter paints a picture of the rapid turnover within C3.ai's EMEA sales org.
PLTR Bull Thesis
We're going to round up this report by summarizing the bull thesis for PLTR and the bear thesis for C3.ai. The bull thesis for PLTR is predicated on data being the enabler of so many themes at present and into the future. Managing data better is foundational to so many markets such as cybersecurity, life sciences, and of course AI/ML which is transforming every single industry. Various components of the AI/ML value chain are already undifferentiated – for instance, developers/data scientists can get off-the-shelf ML models and tune them with newer off-the-shelf datasets, there are also labelling services for natively generated data.
Though, despite the AI/ML tools, 87% of corporate AI projects fail (according to McKinsey). And the failure appears to be attributed to organizations working on siloed AI projects rather than transforming their entire org into an AI-first organization. To transform the entire org into an AI-first org, they need a comprehensive data foundation built on top of a customized ontology – and ultimately, this is what PLTR's excels at the most.
The other stumbling block for AI projects is the operationalizing of the AI/ML. It's relatively easy to plug in an ML model to an application and have it interacted with a few users, though the often-insurmountable difficulties arise when its time to push it into production and have it interacted with various systems and tens and hundreds of thousands of users. This problem is where most AI projects fail, and to solve the problem organizations need capable MLOps, and this is something else that PLTR excels at.
Financially, PLTR is improving with each quarter, and its customer growth run rate is 70% (138 customers in FY20, 237 customers in FY21, and 42 customers in 1Q22). Furthermore, management has provided long-term revenue guidance, and they have recently complimented the top-down sales approach with a bottom-up focused alternative. And the valuation of 28x NTM EV/EBITDA is very attractive when considering the path to terminal profitability will continue a few years after the next 12 months.
C3.ai Bear Thesis
On the technological side, C3.ai is not an experienced or a broad-based AI company. From 2009 through to 2019 they predominately did energy management and predictive maintenance by utilizing ML and IoT. They have branched out from this narrow focus only in 2019 when they changed their name to C3.ai and were probably forced to expand their AI capabilities. When compared to PLTR, they cannot be considered an experienced AI company. Generally, C3.ai is an orchestration platform that connects to third-party solutions and needs third-party solutions – both open-source and proprietary – in order to do their work.
We've not mentioned it thus far but C3.ai has frequently changed the definition of a customer in its SEC filings. They also use ambiguous language on their website making it so you don't know whether the companies shown are legitimate customers.
C3.ai's TTM revenue is $252m and they have about 220 customers. Take away c. $70m from Baker Hughes and divide the rest by 219 customers, you arrive at $0.8m per customer on average. PLTR's average revenue per customer is about 8x higher.
We surmise that the median revenue per customer is way lower still because 40% of C3.ai's revenues are concentrated in three customers. So, the median revenue per customer is probably closer to $0.5m for a so-called leading AI company that targets the large enterprises sounds off even more alarms and supports our research that C3.ai is merely an orchestration player that positions itself in a small gap of the value chain.
Another observation is that it is strange that C3.ai isn't offering long-term revenue guidance despite its big business claims like the $250m Microsoft value and the $500m DoD agreement. Well, actually it's not strange because these are clearly not contractual agreements that are being communicated to investors. So, in reality C3.ai has really poor revenue visibility which is another reason to stay away from them.
As we've covered, there are numerous corporate governance concerns, which may not be a strong long/short catalyst for many readers because PLTR has an unusually shareholder-unfriendly governance structure. Though, at least PLTR isn't trying to hide anything – any past relationships between directors and PLTR executives are clearly shown in the investor relations site. The direct financial relationships between Siebel and many directors are very concerning.
And finally, the Baker Hughes unfolding of events is worrisome for the business and investors. Evidence suggests potential fraudulent accounting, and it's clear Baker Hughes wants out and to go with another AI provider. C3.ai will need to accelerate growth if it wants to make up for losing Baker Hughes in a few years.