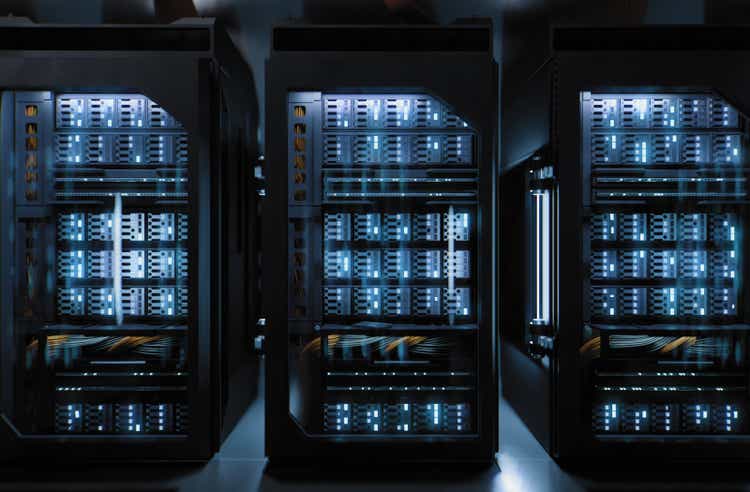 Equinix (NASDAQ:EQIX) is a data center REIT with 244 properties under management across 69 metros, 30 countries, and six continents. The REIT hosts more than 10,000 companies in its ecosystem, with approximately 50% of them being Fortune 500 firms. Furthermore, the company's cloud-based exposure reaches 3,000 companies that are inextricably linked to an industry with a CAGR (compound annual growth rate) of 15.7%, which is well above annual GDP growth.
Data center REITs like Equinix have caused much optimism among investors due to their proven secular growth attributes. However, legendary investor Jim Chanos has highlighted that data center business activities and the underlying properties that host the business activities are independent.
According to Chanos: "The story is that although the cloud is growing, the cloud is their enemy, not their business. Value is accruing to the cloud companies, not the bricks-and-mortar legacy data centres."
Based on our analysis, Chanos is correct in some respects but overlooks other factors. Nevertheless, we're bearish on Equinix as it's evident that it's an overvalued REIT with stretched dividend payments.
We've set our horizon for this analysis at a 6-month duration, after which we'll revise our standing; here's why we're bearish.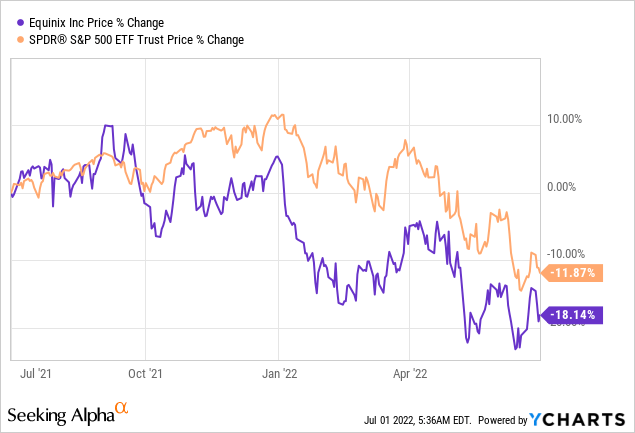 Operational Growth
Data center market size is snowballing at a CAGR of 18.9% (until 2028), and with Equinix holding about 11% of the market share. Thus, it's trivial why this REIT has been able to scale fairly quickly in recent times.
As mentioned in the introduction, much of the REIT's revenue derives from the cloud space, which is growing at a CAGR of 15.7%. As conveyed by the chart below, cloud infrastructure services grew staggeringly during 2020 and 2021 as work from home ('WFH'), and economic stimulus led to exponential industrialization in the technology sector.
Yet, we believe that much of the industry's medium-term growth has already been captured for now. Instead, we'll likely enter a period of consolidation in the cloud space instead of a continuous surge in activity; this can be backed up by the negative growth we're seeing in total factor productivity, which measures technological advances' contribution to GDP growth.
The following two charts convey Equinix's first-quarter results and its adjusted funds from operations. The adjusted funds from operations is an adjusted version of funds from operation, which provides more economic sense from an investor's vantage point.
The two figures provide an interesting juxtaposition. The latter conveys Equinix's superior sector relative growth with its 5-year AFFO CAGR at a 5.96x dominance. However, more recent results indicate that the growth has slowed, with Equinix only presenting a 3% year-over-year growth in its adjusted funds from operations. Thus, it's evident to me that growth has softened.
Although ex-post earnings growth has slowed recently, we need to consider the CapEx. CapEx is the re-investment rate into existing maintenance and expansion of the REIT's portfolio. Equinix's CapEx has dragged down to 1.4% in the first quarter versus its 5% in its previous financial quarter. Moreover, 43% of the CapEx was spent on maintenance and 25% on sustaining IT networks, which can both be considered sustainability expenses instead of expansionary investments.
Lastly, although Equinix has rolled out two new projects in Muscat and Singapore, it's unlikely that it will acquire many projects in the coming years unless it issues additional equity, which could dilute shareholders. I say this as borrowing rates have surged globally. For instance, long-term commercial mortgage rates in the U.S. has surged to nearly 5%, implying that real estate acquisitions could be slowing down for almost everybody. In addition, real estate prices are without a doubt inflated after inflation has surged during the past two years, making it difficult for commercial property buyers to find good deals.
Equinix loads heavily on debt to acquire its properties, with its debt-to-equity ratio at 3.8x. The REIT's fixed-rate debt amounts to 94%, which means its ex-post debt shouldn't be an issue. However, obtaining future debt for acquisitions could be challenging.
Valuation And Dividends
Equinix's quantitative metrics convey that this is an overhyped asset. The REIT's adjusted funds from operations and funds from operations alike are at 39.83% and 1.45x premiums relative to the REIT's normalized average. Considering the secular growth of the REIT's tenants, it's easy to fall into the trap of ignoring valuation. However, as Jim Chanos said, the companies that rent the facilities are growing, but the property values won't rise alongside as they're inextricably linked to the commercial property space.
I'd opine that data centers have some value-added features as some are developed with long-lived equipment. Nevertheless, this could also be traded off by the rising energy cost debate. Data centers use a considerable amount of energy, which could dilute their income statements significantly, especially considering 2022's resilient global energy prices.
Furthermore, Equinix's dividend capacity seems stretched. For instance, its safety ratios convey that its GAAP dividend payout ratio is at a 2.20x normalized premium. Intertwining this with the REIT's high debt levels and possibilities of slowing cash flow tells us that dividends look unsustainable.
A Counter Argument
My counterargument against possible downside is twofold. Firstly, Equinix is part of a market segment that provides dividends and can be considered high-quality as it's a "best in class" play with high profitability and growth. Relating factor analysis to the REIT's attributes tells us that it's possible that it could outperform the S&P 500 on a normalized basis.
The second argument for upside is Equinix's market share. With a dominant market share of 11%, the REIT has leverage in the marketplace with deal-making abilities on the buy and sell-side that could bring about robust cash flow throughout the economic cycle.
Concluding Thoughts
Equinix could be set for an extended drawdown as its valuation and dividend metrics convey trouble. Furthermore, an operational overview suggests that the REIT's growth could stagnate for the foreseeable future as its CapEx distribution and commercial borrowing rates are becoming an issue. Thus, we align ourselves with Jim Chanos' thought process by concluding that data center REITs and Equinix, in particular, could capitulate.