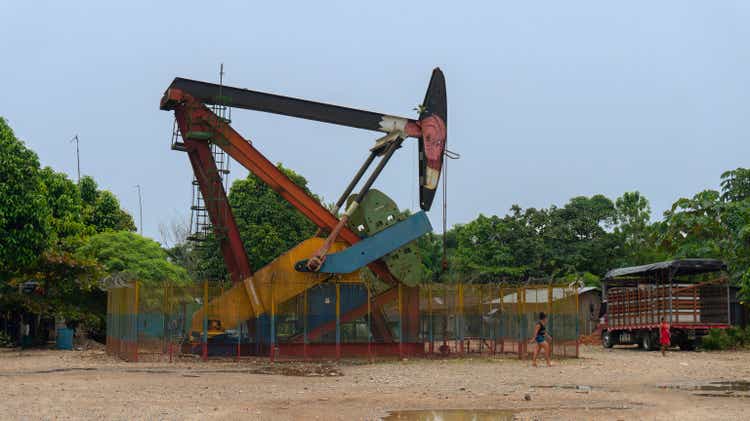 Colombia's political risks continue to unnerve investors in state-owned energy company Ecopetrol (NYSE:EC). Gustavo Petro's presidential election win on June 19 signals a more interventionist approach towards the company and more broadly to the regulation of the oil and gas sector.
Investor Skepticism
It's a blow for Ecopetrol, which was already struggling to regain investor confidence following the Interconexión Eléctrica acquisition last year. The deal to purchase the state-sponsored electricity transmission and infrastructure company attracted significant controversy, with many analysts suspecting government pressure was the main driver behind the ISA acquisition.
Although CEO Felipe Bayón vehemently denies this, the transaction had all the hallmarks of the cash-strapped government using Ecopetrol to relieve its fiscal pressures. ISA, as an operator of high-voltage electricity transmission lines, toll roads and fiber optic cables in Colombia and across the region, was not seen as a natural fit for the integrated energy company.
What's more, the way the deal has come together raised suspicions on its motives. The fact that the Colombian government was a majority owner of both ISA and Ecopetrol enabled it to raise cash in a way which also allowed the government to maintain effective control of ISA following its sale to the petroleum giant. Adding to the skepticism, Ecopetrol refrained from making a public tender offer to ISA's existing minority shareholders, and was instead only interested in acquiring the government's 51.4% stake in ISA.
Ecopetrol, which until recently was seen as a transparent and well-governed company, may nevertheless acted in the best interests of its shareholders. For an energy company to diversify into the utilities space is not something that is unheard of, putting Ecopetrol in a growing club which includes Italy's Eni. Moreover, European oil majors such as BP (BP), TotalEnergies (TTE), Shell (SHEL) and Equinor (EQNR) are making similar moves to invest in low-carbon investments, including renewables.
Reserves Replacement Ratio
One possible reason why Ecopetrol has been moving faster and further in its diversification efforts than its Latin American peers was concern about its low reserve life. By the end of 2020, its hydrocarbon reserve life had fallen to 7.5 years. The company, which once had a higher market capitalization than Brazil's Petrobras (PBR), has for years failed to make significant discoveries for new oil in Colombia.
Ecopetrol has had to look abroad for growth, and has invested heavily in oil exploration in the Permian Basin in West Texas, as well as in Brazil, Peru and Chile. Roughly 30% of total investments in 2022 will be allocated to projects outside of Colombia, up from less than 5% five years ago.
That being said, the situation now looks less dire, as the improving price environment since then has had a very positive effect on its estimated reserves. This helped Ecopetrol to achieve a Reserve-Replacement Ratio of 200% in 2021, the highest level in 12 years.
As a result, its reserve life increased to 8.7 years by the end of 2021, exceeding the 2014 figure when the average Brent price was $102 per barrel, compared to an average of $69.2 in 2021.
89% of the reserves comes from oil fields in Colombia, while the remaining 11% belongs to its joint venture with Occidental Petroleum (OXY) in the US.
With the price of crude now firmly higher than a year ago, economically recoverable reserves of oil and gas should be significantly higher still. Excluding the price effect, the 2021 replacement ratio would have been 122%.
Political Risks
Incoming president Gustavo Petro's proposed moratorium on oil and gas exploration could make it even more difficult for Ecopetrol to replenish its hydrocarbon reserves going forwards. In his election campaign, he pledged not to grant any new licenses for oil and gas exploration, end development of offshore deposits, halt all pilot hydraulic fracturing ('fracking') projects, and speed up Colombia's transition to clean energy.
Investors have been taking Petro's words seriously, but the new administration would likely find it difficult to achieve these goals due to the country's strong institutional constraints. Colombia's presidential powers are limited, and he will struggle to assemble a legislative majority in favor for most of his policies.
And even if Petro did manage to get his policies enacted, it would not have much impact in the short to medium term – there is already a ban on fracking, with the exception of a small number of pilot projects. Moreover, he certainly hasn't pledged to stop existing exploration contracts from continuing to operate, meaning there will likely be little material impact on the current plans for most oil producers. In any event, the country's powerful constitutional court would likely prevent an early termination of such contracts.
Colombia's president is also limited to a single four-year term, which greatly reduces the scope for Petro's influence on the long term regulation on the industry.
Policy changes would likely be limited and this should assuage the market's worst fears. As such, it could set the stage for a rebound in the markets, as low valuation multiples tempt investors back. Equity markets in Chile and Peru were similarly rattled by recent presidential election wins by leftist candidates, but they soon quickly regained their losses. The same pattern could therefore emerge in Colombia too.
Upwards Trend In Earnings Expectations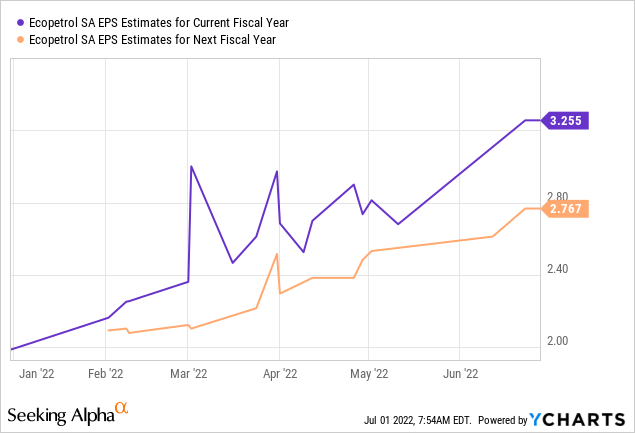 In contrast to Ecopetrol's stock price, earnings estimates for the company have trended strongly upwards. Over the past 90 days, the consensus analyst forecast for EPS in 2022 has been revised higher by 24.65%, while the same for 2023 is 24.91% higher, reflecting analysts' confidence in the group's underlying fundamentals.
Wall Street analysts currently expect Ecopetrol to earn adjusted earnings of $3.26 per share this year, with $2.77 penciled in for 2023.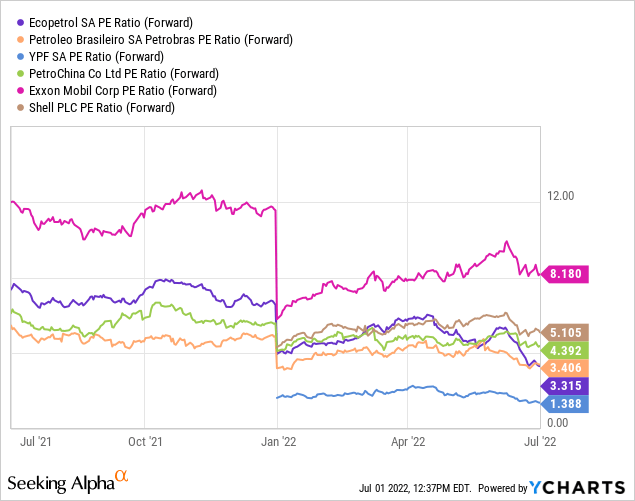 The divergence in recent trends for Ecopetrol's stock price and its earnings expectations has driven the stock's valuation multiples down to near its 2020 lows. On a forward price-to-earnings basis, the stock trades at just 3.3 times its expected adjusted earnings in 2022.
This gives Ecopetrol a lower earnings multiple than most state-owned oil producers, except Argentina's YPF which was forced to restructure its debt in 2021. What's more, Ecopetrol trades at an even smaller fraction on the multiples that the Western oil majors are valued at.