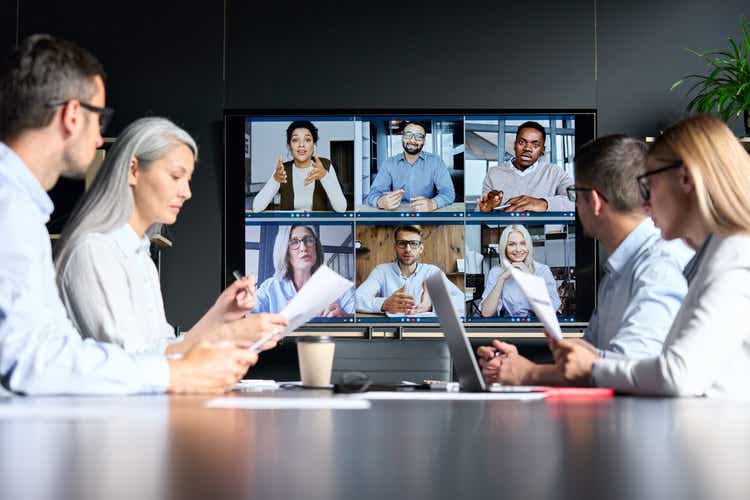 Microsoft (NASDAQ:MSFT) and Zoom (NASDAQ:ZM) are two software players of very different calibers and yet they clash directly over the latter's main business: video conferencing. As such, they present a compelling pair trade as the landscape of the evolving communications landscape continues to shake out. In the context of an imminent recession, Microsoft will win out due to its existing dominance in business software with cheaper (& bundled offerings). From an investment perspective, I anticipate Microsoft will continue to see relative strength as it expands its various product lines while Zoom will face continued headwinds to its valuation as growth disappoints.
Staying Power and Diversification: The Undisputed Software King vs. The Pandemic Call Darling
Microsoft's major advantage over Zoom, as an investment and in direct product competition via Teams, is the company's diversification and ubiquity. Microsoft's software is already well-entrenched as the gold standard for businesses and Windows is the #1 computer operating system, by no small margin, at 75% market share. The company's revenue is pretty evenly split between its three reporting segments, though its cloud segment is quickly overtaking the others.

Zoom, by comparison, has effectively one product from which it derives the entirety of its revenue. The company has reported stellar growth over the past two years, but the era of pandemic boom for the company appears to be fading, and shifting customers to new integrated product lines is the company's new strategy. Given many Zoom users (including myself) were regularly using the company's products for two years and now very happily go without them (I haven't been on a Zoom meeting in months), suggests the company is really going to have to prove its worth. As I mentioned in my prior article on Zoom (admittedly now very outdated but still conceptually valid), Zoom has a great product, but it is not irreplicable. And the company's competitors have done a lot of work to catch up. There comes a point where pretty-darn-good beats fantastic, especially if the first is meaningfully cheaper.
Global reach and diversification are also areas where Microsoft bests Zoom. Zoom saw a huge boom in the United States during the Coronavirus pandemic but failed to reach deeply into other markets. Today, nearly seventy percent of the company's revenue comes from the Americas, which predominantly includes the United States.

From the revenue statement, we can see that Zoom had particular trouble in the European market, with revenue declining year over year despite year-over-year growth in the Americas. This may come down to the continued privacy concerns voiced by various European governments that have scared the data-privacy-conscious Europeans away from using Zoom-even if the company claims to have resolved the issue. Zoom's failure to permeate other markets (even amidst the perfect opportunity that was the Covid pandemic and work from home) is a cause for concern over the company's potential future growth.
Microsoft, admittedly, also gets a substantial amount of its revenue from the United States-roughly half of the company's overall revenue per quarter to be exact. Some of the 68 percent of Zoom's Americas revenue is presumably from elsewhere in the Americas but given the other two differentiated regions are at 14 and 18 percent respectively and the company didn't see fit to differentiate South America, I think it is safe to assume the vast majority is US-based revenue.

Overall, Zoom's growth relies very specifically on expanding its core product line, which historically has only been seen in the United States, while Microsoft has many more varied avenues to revenue growth. In a macro environment of slowing growth, it may be better to own a company that doesn't require demand for one specific product to remain strong (unless there's a very good reason why that demand will stay).
Head-to-Head on Communications and Video Conferencing
Zoom has recently focused on expanding into the "United communications as a service" segment (UCaaS) with the launch of several new products including Zoom Phone and now Zoom One. This seems to be the most compelling path for expansion for Zoom, but the company faces a number of headwinds. As mentioned above, Microsoft has a massive "network effect" benefit because its software is already ubiquitous. While Zoom has to convince people to download its software and begin using it, Microsoft can (and has with Windows 11) just add the Teams Chat to every PC's taskbar – putting its product in the eyes, and within a single click, of millions.

Microsoft, in addition to pushing Teams Chat into a more visible place, has shown a clear interest in moving in on Zoom's UCaaS area with its 2020 purchase of Metaswitch. And people in the industry foresee Microsoft making further moves in the area. Microsoft Teams is already the second-largest UCaaS provider in the world and the segment made up an estimated $6.8 billion in revenue alone for Microsoft in 2020. This is more than 50% more than Zoom's total reported revenue for the trailing twelve months of $4.2 billion. However, for Microsoft, it is only a tiny portion of their overall revenue, standing at $192.5 billion for the trailing twelve months. Now, revenue alone is not proof that one service is better or worse than the other, but it speaks to Teams' existing scale and the potential to further leverage Microsoft's widespread nature to put pressure on Zoom.
In a Recession, Microsoft Stays and Zoom Goes
One of the biggest risks hanging over the stock market right now is the looming threat of an economic recession. In the case of a recession, both Zoom and Microsoft are reasonably well-positioned with solid net cash balances (though Microsoft's is larger by an order of magnitude). However, in a world where businesses are looking to cut costs, I anticipate Zoom losing business while Microsoft will largely retain its customers.
This comes down to price and bundling. Whereas Zoom plans start at $14.99 per month per user and run to $19.99 per month (and an additional $50 per month if you want to host 1000-person meetings), Microsoft offers comparable plans for as low as $5 per month. However, importantly, Microsoft's plans (which also run up to $20 per month for "Office 365 E3") come along with an entire suite of other Microsoft software products and terabytes of cloud storage. For a business looking to cut costs and who isn't exceedingly concerned about Zoom's slightly sleeker products or that option to host a 30-hour continuous meeting rather than a mere 24-hour meeting, paying $12.50 per month for each user to have "Microsoft 365 Business Standard" is way easier to justify keeping than a Zoom subscription for every employee.
As companies, including those who have been thriving up till now, seek to cut costs (see the recent Tesla layoffs), I anticipate they may consider a move to Microsoft Teams in lieu of Zoom. Not only is it cheaper, but Teams is already integrated with software that most companies already own. As a result, you have an easy cost-cutting measure with a low switching cost.
Valuation
Zoom and Microsoft's valuations have both tumbled over the past year-though Zoom's has fallen significantly further. As a result, the two companies are pretty similarly valued at the moment.
| | | | |
| --- | --- | --- | --- |
| | P/E GAAP TTM | P/E Non-GAAP Forward | P/Cash Flow TTM |
| Microsoft | 27.17 | 27.93 | 22.34 |
| Zoom | 27.15 | 29.48 | 20.89 |
All Data from Seeking Alpha Valuation Pages Respectively
However, with diverging growth stories and a changing attitude in the market, I believe this could be set to change. As the market becomes more concerned about the risk of a recession and shifts to safer investments, I think Microsoft could benefit to the detriment of Zoom. Microsoft could reasonably hold its current P/E valuation (which is below its 5-year average of 34.37) while conservatively continuing to grow even in an adverse economic environment thanks to the necessity of its offerings. Though this wouldn't necessarily produce stellar returns, a 1% dividend plus 10-15% earnings growth at a stable multiple could meaningfully outperform in a bear market. If the market begins to recognize Microsoft's expanding cloud and Teams businesses and sentiment turns, the company's multiple could climb back up towards 30 times earnings, pushing the stock back above $300 – around 20% upside.
The diminishing attention towards Zoom as its pandemic stardom fades will continue to weigh on its ability to hold a high growth multiple. Additionally, I foresee the company's growth continuing to slow as competition grows and economic headwinds undermine the company's ability to acquire new customers and retain existing ones seeking to cut costs. The company's valuation is positioned to fall further towards the sector average of 23.34, which may further fall as investors shift into safer Blue Chips and cyclicals. With the company's earnings per share expected to fall to $3.79, Zoom's shares could easily drop below $90 per share-a 15% drop in share price.
In the near term, Zoom's earnings are predicted to fall year-over-year for every quarter until the first fiscal quarter of 2024, largely due to very difficult comps versus the height of the pandemic and video calling last year.

By comparison, Microsoft is predicted to grow year-over-year consistently, with growth accelerating going forward into mid-2023. If Microsoft is able to deliver, this will be a boon to the stock price, even in a bear market.

Conclusion
Microsoft and Zoom face diverging paths. As economic headwinds continue to accumulate, spooking investors, Blue Chip stocks with diversified and entrenched income streams like Microsoft stand to benefit, while high-flying tech stocks like Zoom are poised to suffer further. In the communications area, as businesses look to cut costs and Microsoft continues to improve its Teams offering, Zoom subscriptions may be cut in favor of using Windows built-in Teams Chat and meetings. Along with market shifts and changing growth momentum, Zoom's share price is positioned to face significant challenges while Microsoft's can show resilience in a tough market.