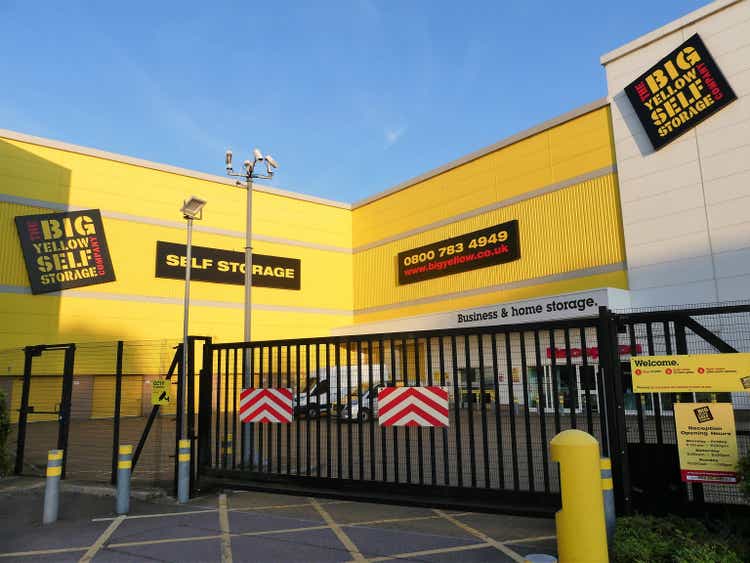 British self-storage operator Big Yellow (OTCPK:BYLOF) has a lot going for it, from market growth to an instantly recognisable brand.
I last covered the company in a "sell" note in March 2022 entitled "Big Yellow Group: Attractive Business, Not A Compelling Valuation". My thesis was that the business was likeable because of its strong position in an area set for strong growth, but that the valuation was ahead of itself. Since then, the shares have fallen 35%.
Business Continues Well
The company ought to do well in years to come because of several key reasons.
The market for self-storage in the U.K. is underdeveloped compared to North American markets and there is lots of space for growth, both mopping up underserved locations and expanding the usage rate. Big Yellow has a strong brand, which could help it grow disproportionately compared to competitors. On top of that, its continued expansion (now at 108 sites and counting) should help boost revenues as well as allow it to spread its fixed costs more widely, helping profitability as well as further entrenching its brand strength.
The Q1 trading statement released in July demonstrates how these strengths continue to work to Big Yellow's commercial advantage in a solid, though not spectacular, fashion.
Like-for-like revenue grew despite lower occupancy rates. That is because the estate grew, and rent rates increased markedly. There will not always be scope for such high rent hikes (thankfully for customers) but growing space ought to be an ongoing feature. The business just needs to make sure occupancy stays at the right levels.
82% occupancy is decent (rival Safestore (OTCPK:SFSHF) saw occupancy in its latest quarter decline from 84% to 79%, so not only was Big Yellow's fall of similar magnitude, but it still leaves its occupancy rate slightly ahead that of Safestore). I do not think the fall is because of market oversaturation, given that the U.K. continues to have relatively few branded self-storage units in many urban centres, let alone elsewhere.
The company is aware of the risk here, and mentioned that it had started its year with a return to occupancy growth (presumably on a quarter-to-quarter not year-on-year basis), which bodes well, but I would still like to see higher occupancy rates. US market leader Public Storage (PSA), for example, has also seen occupancy fall over the past year, but even in its far more saturated market saw occupancy in its most recent quarter hover around 93%. That is the sort of number I think British counterparts including Big Yellow ought to be able to manage (if not higher).
Other Risks
As well as the risk of low occupancy and market saturation, the key risk I see for the company is simply matching its supply to demand at the right price.
Big Yellow has a proven formula and has been disciplined about spending and its balance sheet. Continued expansion makes sense following the same disciplined approach, which so far is what it has been doing.
I do not expect demand to drop markedly, but it could do, if for example a tightening economy leads some customers to forego the expense of a storage unit (though that argument can also be seen the other way: higher rents for housing or offices could make storage units seem more attractive).
Valuation
Before digging into valuation, let's consider the most recent full-year financial results.
The 90% drop in basic earnings largely reflects the absence of a revaluation surplus that accounted for 86% of the prior year's figure. That was a one-off rather than recurring phenomenon.
While the earnings look impressive relative to revenue, that reflects the nature of an REIT like Big Yellow and REIT accounting practices.
Relative to earnings, the current share price trades on a P/E ratio of 18 (using EPRA earnings) or 25 (using basic statutory earnings).
Last year free cash flows were negative at -£0.3m. That does not particularly bother me. The company is basically ploughing operational cash flows back into the business, with operational cash flows last year of £112m and non-current asset purchases of £106m. In the long term, such assets should drive growth and may appreciate in value.
That does not leave much for the £79m cost of dividends: the company borrowed £74m. But I do not see that simply as borrowing to pay dividends. Rather, the company bought new assets and paid dividends from a combined pool of operating cash flow and borrowings. It could have borrowed nothing and still met the dividend bill, simply by spending less on non-current assets.
From a valuation perspective, however, the cash flow numbers do not help us much. Looking at operating cash flow is one thing, but with its property portfolio and expansion plans, investing and finance cash flows can hardly be ignored with impunity.
Relative to earnings, I consider both the market cap (£1.9bn) and enterprise value (£2.4bn, once £484m of net debt at the end of the first quarter is taken into account) to look far more reasonable than last time around, but still pricy. The shares have lost 40% since their peak going into the start of last year.
Even allowing for a quality premium for the company, I think the P/E ratio in this market ought to sit somewhere between 12 and 15 to offer value, so continue to see the shares as overvalued and maintain my "sell" rating.
Editor's Note: This article discusses one or more securities that do not trade on a major U.S. exchange. Please be aware of the risks associated with these stocks.