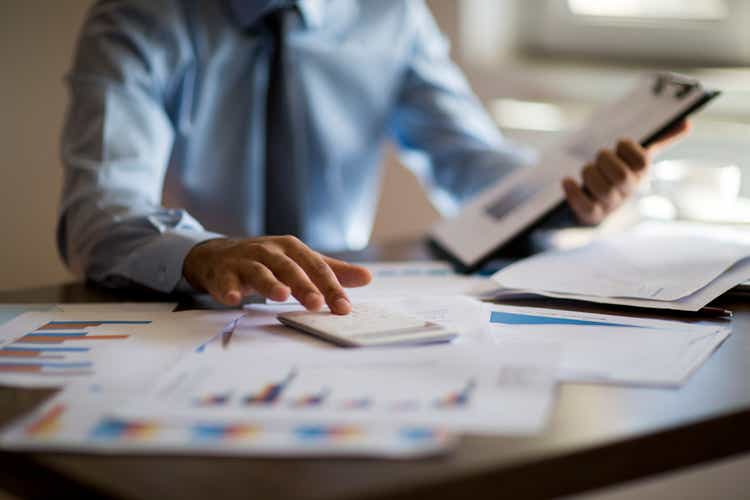 Avalara (NYSE:AVLR) recently reported their Q2 financial results with revenue coming in a little below expectations, but profitability better than expected. However, the biggest news was that they recently agreed to be acquired by Vista Equity for $93.50/share in cash, which at face value seems pretty disappointing for investors.
The stock has been under a lot of selling pressure since reaching an all-time high in late-2021, with the stock down 65% at the low-point. And while this takeout price did provide some upside relative to the trading price at the time of the announcement, I believe investors should be somewhat disappointed at the valuation and takeout price.
With the takeout acquisition expected to close in the second half of the year, it appears this may be the end of Avalara's public stock. With the takeout price representing only a 27% premium compared to pre-rumors, it does also represent a big discount to the levels the stock had been trading over the past year.
I believe investors should be somewhat disappointed with this takeout price, given the stock had traded above the $93.50 takeout price for much of the first half of 2022. While not surprising to see private equity interest in Avalara given the significant pullback, one might have thought management's long-term financial outlook would be supportive of a higher takeout price.
For now, I don't believe there is much to do with the stock as the current trading price is marginally below the takeout price. However, I do believe investors should start to feel more confident about software stocks in general. If private equity is dipping their toes into the public markets at current valuation levels, the may be close to reaching a trough in general valuations.
Financial Review
During Q2, the company reported revenue growth of 23% yoy to $208.6 million, which slightly missed expectations for $208 million. In addition, billings during the quarter came in at $212.4 million, representing 17% yoy growth, which at face value seems a little disappointing.
Not surprisingly, the company's non-GAAP gross margin remained healthy at 75%, compared to 74% in the year-ago period. Given the strong and stable gross margins, we should see longer-term operating leverage, as I talk about below.
However, non-GAAP operating loss of $1.9 million demonstrates a long pathway ahead for the company. Nevertheless, non-GAAP EPS loss of $0.02 was better than expectations for a loss of $0.08.
From a customer metric standpoint, Avalara continued to demonstrate strength, growing their customer base to 20,110 core customers, up 21% yoy. I believe the company continues to operate in an under-penetrated market, as tax compliance software is still an investment that has not been made by many companies. In addition, net revenue retention rate was 113% during Q2 and has averaged 115% over the trailing 12-months.
Back in late-June, the company hosted their investor day, in which management talked about their 2025 financial targets. Given the significant market opportunity, the company expected organic revenue growth of 20-25% through 2025.
Combined with stable gross margins of 76-78%, the company is expecting some nice operating leverage, with non-GAAP operating margin expected to reach 10-15%, up from the 1% margin they saw in 2021. In addition, FCF margin is expected to improve, reaching 13-18% by 2025.
Vista Equity Takeout
Given the above financial framework, it was quite shocking to see the company agree to be acquired by Vista Equity for $93.50 shortly after hosting a positive investor event.
Back in early July, just a few weeks after the company hosted their financial day and providing bullish long-term targets, there were rumors that Avalara was approached by Vista Equity in a potential takeover, causing the stop to pop 16% from the ~$73.50 trading price at the time.
Given the eventual takeout price of $93.50, this only represented a ~27% premium to the pre-rumor stock price, which does not appear overly attractive given Avalara had traded above the takeout price for much of the first four months of 2022.
While it's not surprising to see Avalara receive private equity interest given their long-term financial framework, investors would have like to see a higher takeout price. Yes, the valuation for many software stocks have pulled back significantly over the past year, but if management was very bullish about their long-term outlook, then a takeout price equivalent to the average trading level for most of this year should have been unattractive.
Valuation
With the stock down around 45% year to date prior to the takeout rumors, it's no surprise to see valuation pullback to 6x forward revenue at the trough. Investors had become fearful of high-valuation companies that were not profitable, especially given the heightened concerns with a potential recession around the corner.
Nevertheless, Avalara's long-term financial targets of 20-25% organic revenue growth and 10-15% non-GAAP operating margin would have given them a solid framework around the Rule of 40. Typically, software stocks with similar financial metrics would be trading right around 10x forward revenue.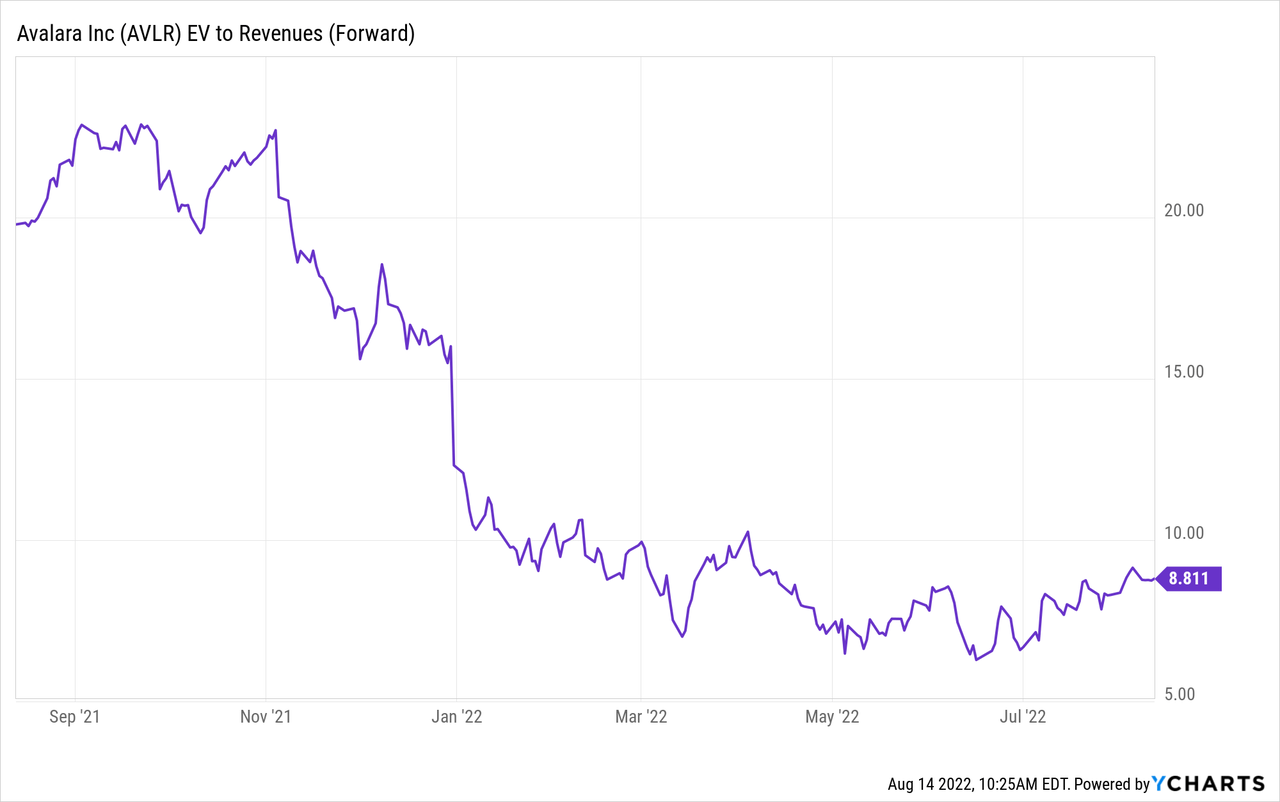 However, the takeout price by Vista Equity represents just under 9x forward revenue, which at face value does not seem unattractive. More recently, Anaplan was acquired by private equity firm Thoma Bravo for around 10.5x forward revenue. And with the market pulling back since the Anaplan takeout announcement, it's no surprise that the unprofitable Avalara was taken out for a slightly less valuation multiple.
Nevertheless, I believe the $93.50 takeout price, which seemingly implying a good valuation multiple, is rather disappointing to long-term investors. Especially with the company only recently hosting an investor day with bullish long-term financial framework, investors would have liked to see this story play out a little longer.
The stock had been trading above $90 for most of the year up until the late-April market pullback, and with the takeout price only getting the stock back to these levels, one may ask why management agreed to be sold.
I believe the biggest reason why is that this was the easiest path back toward the stock trading above $90. However, one may question why now was the best time to sell, especially given the positive framework they provided at the investor day.
For now, there's not a whole lot to do with the stock given the pending takeout price and expectations of this deal closing in the second half of the year. While investors may be disappointed in management's decision to agree to the takeout price, the valuation multiple is what should be expected.