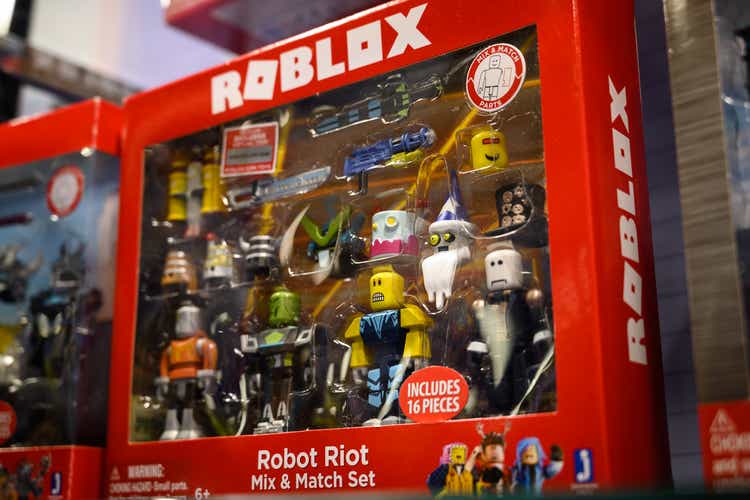 Roblox's (NYSE:RBLX) stock is up significantly off the 2022 lows, with the company returning to growth and DAUs looking solid. The company's current business model only allows it to capture a small slice of the value generated by the platform though. While generative AI could help to control costs and accelerate adoption of the product, advertising will have vastly different economics and could be a game changer.
Roblox
Roblox provides a real-time 3D platform that enables shared experiences amongst what Roblox hopes will eventually be a billion users. The company was formed in 2004, although the platform traces its roots back to 1989.
It is easy for users to set up a Roblox account and the platform is free, with the company operating a freemium business model. The platform is powered by user-generated content and operates at the intersection of gaming, entertainment and social media.
The platform consists of:
Roblox Client – application that allows users to explore 3D digital worlds
Roblox Studio – toolset that allows developers and creators to build and operate 3D experiences and other content accessed with the Roblox Client
Roblox Cloud – the services and infrastructure supporting the platform
The Roblox Client operates on iOS, Android, PC, Mac, and Xbox, and supports VR experiences on PC using Oculus Rift, HTC Vive and Valve Index headsets.
Roblox continues to invest aggressively in R&D, with initiatives generally targeting cost control, revenue acceleration, generative AI, acquiring older users, and increasing social communication. These efforts are critical to the future of the company, as costs are currently structurally high and revenue growth is largely dependent on expanding the user base.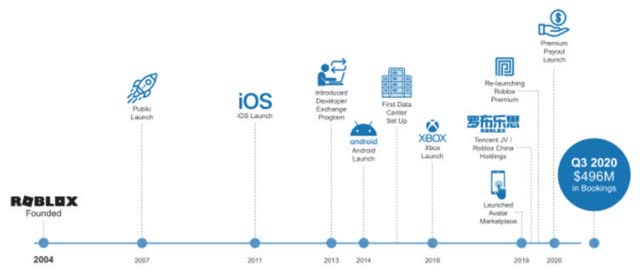 Roblox has millions of experiences, the majority of which can be explored for free. It is generally a freemium model where users can purchase experience-specific enhancements and items. Most of the content on the platform is user generated, with Roblox enabling developers and creators to monetize their content. There are over 15 million active experiences on Roblox's platform, with 2,400 of those experiences generating at least one million hours of engagement in 2022. There are also millions of creator-built items which users can personalize their avatars with.
Robux is the currency of the Roblox economy. Users can purchase Robux and spend the currency on experiences and items for their avatar, and developers and creators are compensated with Robux. Developers receive 70% of the Robux spent within their experiences and 70% of the Robux spent on items that appear in the studio marketplace. Creators receive 30% of the Robux spent on their items that appear in the Avatar Marketplace.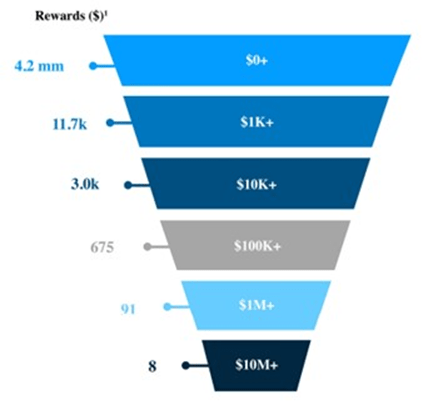 Roblox currently offer developers and creators four ways to earn Robux:
Sale of access to their experiences and enhancements in their experiences
Engagement-based payouts, which reward developers for the amount of time that Premium subscribers spend in their experiences
Sale of content and tools between developers
Sale of items to users through the Avatar Marketplace.
Developers and Creators can convert Robux into the currency of their choice through Roblox's Developer Exchange Program. Developers and creators don't always immediately cash out Robux though, a trend that appears to be increasing over time. Roblox can create value by keeping Robux circulating in the Roblox economy, rather than having developers cash out income immediately. Robux may be reinvested into developer tools, used to promote experiences through Roblox's internal ad network, or spent on Roblox experiences/items. Between deferred revenue and Developer Exchange Liability, working capital is a large source of cash for Roblox.
It should be noted that deferred revenue includes revenue from items that are considered to be durable. Revenue from these is increased over the average lifetime of a paying user. This is somewhat unusual as users generally can't receive refunds for items purchased. This also makes it difficult to know how many Robux have been purchased but not spent.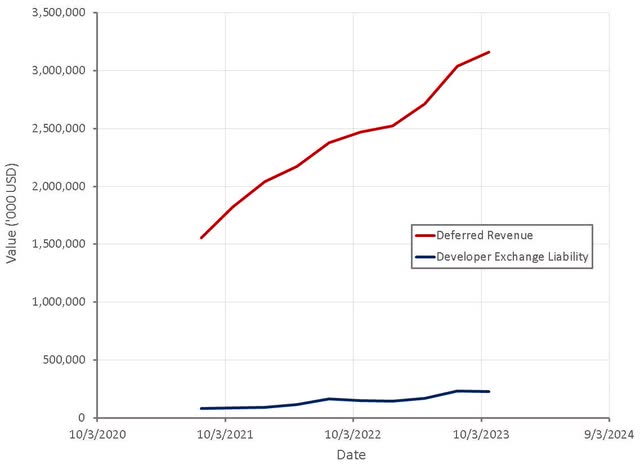 Robux can be purchased via a one-time purchase or through a Roblox Premium subscription service that is billed monthly and includes discounted Robux. Users generally cannot cash out Robux, and hence they must be spent and then developers/creators must exchange Robux for a currency before Roblox is hit with a cash cost. Roblox accepts payments through app stores, credit cards, and prepaid cards, the cost of which is prohibitive and currently limiting Roblox's business.
Payment processing and other fees primarily include payment processing costs charged by the primary distribution channels for Roblox's currency. Payment processing and other fees are generally around 25% of bookings. This cost is expected to rise as Roblox's sales are shifting towards mobile distribution channels, like the Apple (AAPL) App Store and the Google (GOOG) Play Store. These distribution channels are subject to extremely high processing fees compared to channels like credit card payment processors.
There is likely little that Roblox can do about this in the near term, aside from try to develop new revenue streams, like advertising. In an ideal world app stores would be forced to reduce their fees, and this will potentially happen in time, but it doesn't make for a good investment thesis.
Roblox benefits from network effects, which help to secure the company's competitive position. Developer content enhances the platform, attracting users. More users provide developers with a larger market, helping to attract developers. Because Roblox also has social elements, users also attract users. Network effects matter until they don't though. Many people thought Facebook (META) had one of the strongest businesses in the world, until they realized how dependent Facebook is on Apple.
Roblox isn't the only game in town either. Developers may choose to build a game on a platform like Unity (U) and then distribute it in the Google/Apple app stores. In making this choice developers must consider their own skill set, the cost of development and monetization potential.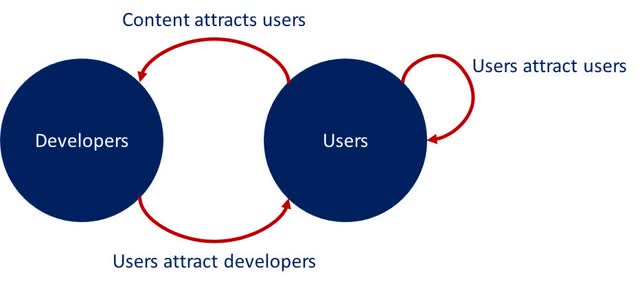 Roblox is a big believer in the importance of the social aspect of the platform, and is trying to enhance this with new features. For example, Roblox is trying to make it easier for people to find friends on the platform. Users are now discovering 10% more real-life friends on the platform in the first seven days compared to a year ago.
Roblox has also introduced a chat feature for users aged 13+, which allows developers to incorporate voice-based communication in their experiences. Voice on Roblox is now being used by almost 10% of 13+ daily users in the US. Roblox has also introduced a feature that syncs the lips of avatars with audio and plans on offering fully animated avatars in the future, potentially using camera inputs.
Roblox currently generates minimal revenue from sources like advertising, licenses and royalties. Advertising could be a lucrative area in the future though, and it could help to overcome some of the company's current profitability issues.
Roblox has been working on an advertising solution, which is currently undergoing testing, with over 200 developers participating. Advertising could be in the form of images within an experience, say a virtual billboard. Advertisers could also offer their own experiences, allowing users to explore them in 3D. Roblox has already partnered with companies like Nike, Vans and Gucci on this. These are referred to as Portal Ads, and allow users to engage in a non-invasive way. Roblox expects to roll out self-service this year for both image and portal ads. Roblox expects to generate a small amount of advertising in the second quarter, but has so far not quantified how much.
Based on the performance of social media companies, Roblox could be expected to generate something like $0.05 of advertising revenue for every user hour on the platform. At the current usage hours run-rate this would amount to something like 700 million USD in quarterly advertising revenue. This is a long way off though, as the company still needs to demonstrate it has a viable product that can offer attractive returns for advertisers. There are also questions around advertising to such a young user base and how much data Roblox has to target users. If successful, advertising would likely significantly improve margins as it would bypass the payment processing issue.
As Roblox is primarily targeted at younger users, ensuring user safety is a key concern for the company and a relatively large expense item. Roblox has over 1,700 trust & safety agents across the globe who appear to generally be contractors. This is a common expense for social media companies, but is particularly sensitive for Roblox given the age of users. For example, Facebook has around 40,000 employees dedicated to safety and has been spending around 3.7 billion USD per year. Roblox has been using machine learning to increase the productivity of the safety organization, and has now reached a point where reviews of 3D objects, audio and images are highly automated.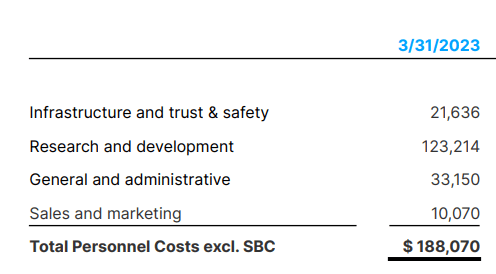 Generative AI also has the potential to reduce Roblox's developer and creator costs, although this could be a risky strategic decision. Generative AI can be used to produce proprietary assets and experiences, which Roblox could sell without incurring developer costs. This would likely be viewed poorly by developers and risks upsetting the balance of the ecosystem though.
Rather, it seems likely that Roblox will use generative AI to increase the productivity of developers and help them to create higher quality content. For example, Roblox has launched a generative AI accelerator to assist creators. This allows developers to create any type of 3D material using natural language. Roblox is also launching code generation that won't just help auto-complete, but guides creation and scripting on Roblox.
Roblox is trying to attract older users with higher quality experiences, some of which the company is funding with its creator fund. Roblox wants to help developers take the risk of creating experiences that could appeal to older users. Roblox has a game fund that was initially launched with 25 million USD for financing game development. Roblox has since added an extra 10 million USD to the fund, which will be distributed to developers who are pushing the technical limits of the platform. The company is also taking in a similar approach in areas like education. For example, Roblox has worked with FIRST Robotics and the Boston Museum of Science to develop educational experiences.
Roblox Frontlines is an example of a much higher quality experience that is helping to attract older users. Frontline was released in February of this year and is in the same vein as a game like Call of Duty. The developer team wants to build off of this success and plans on introducing a Battle Royale like product. Since release, Frontlines has had approximately 5.1 million sessions played, with an average of 200,000 daily active players.
Financial Analysis
Roblox's revenue growth has been weak in the wake of the pandemic surge. The company is potentially emerging from this now, driven by ongoing DAU growth. It should be noted that Roblox's reliance on generally small payments from a user base that skews younger, makes its demand drivers different from many other companies.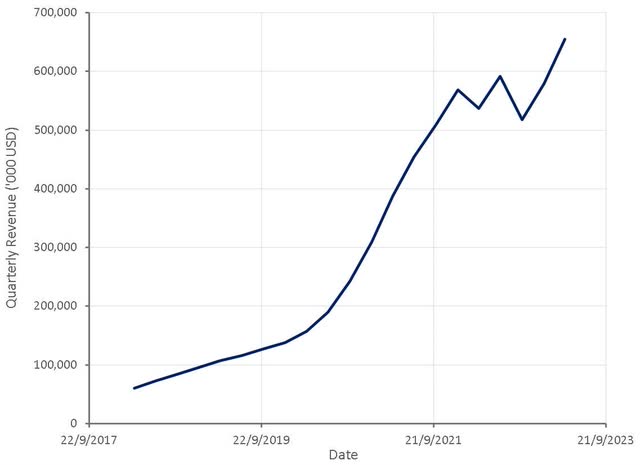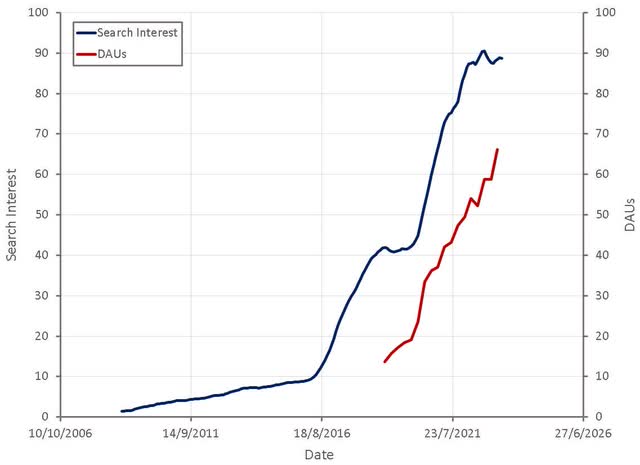 International expansion is a focus area for Roblox as the company believes it is underpenetrated internationally, and also under monetized. Roblox appears to be making good progress outside of North America, particularly in Asia Pacific. DAUs have been fairly flat in North America over the past three years, which calls into question ultimate adoption levels. Roblox's penetration rate in its core demographic in North America could be around 25%. As a result, further growth in more mature markets will likely need to be driven by older demographics.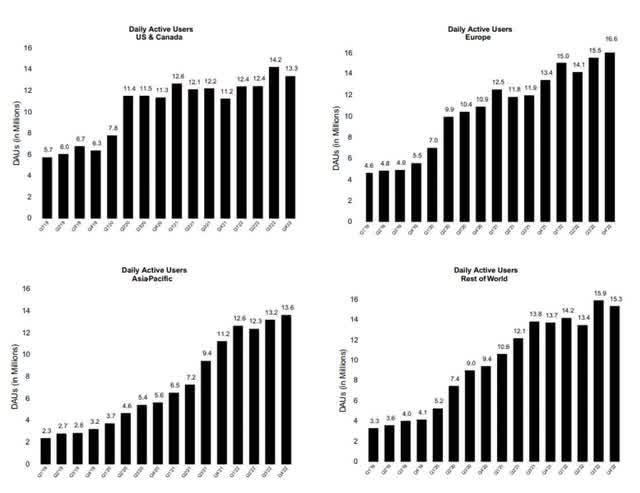 Roblox is successfully expanding usage amongst older age groups, with adoption growth outpacing younger demographics. Some of this is just the result of existing Roblox users getting older, but there are also new users being attracted to the platform. There is potential for further growth amongst over thirteens as Roblox begins to introduce higher quality content and content focused on older users.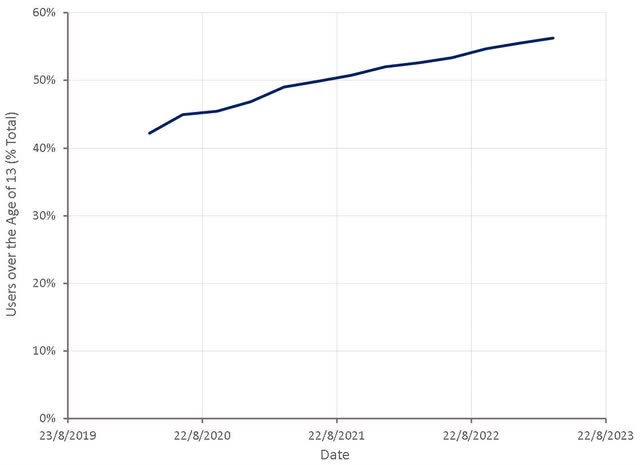 Roblox's growth runway with the existing business model is somewhat questionable. Most users do not pay for the service and Roblox has demonstrated no ability to increase the percentage of paying users. In addition, paying users are generally not paying more for the service over time. This is a little surprising given increased adoption by 13+ users. Roblox really needs additional revenue streams, like advertising, to ensure the company's long-term success.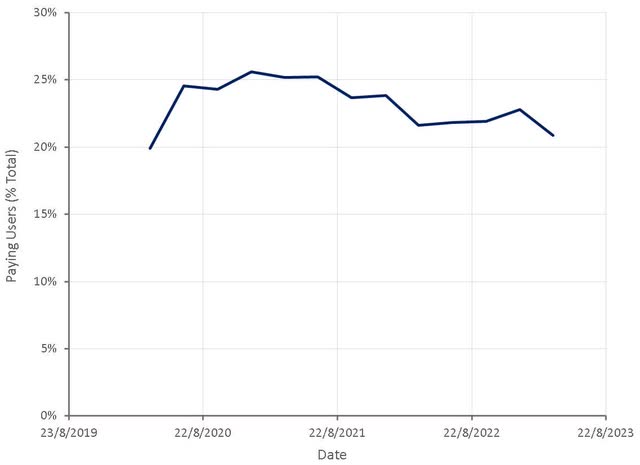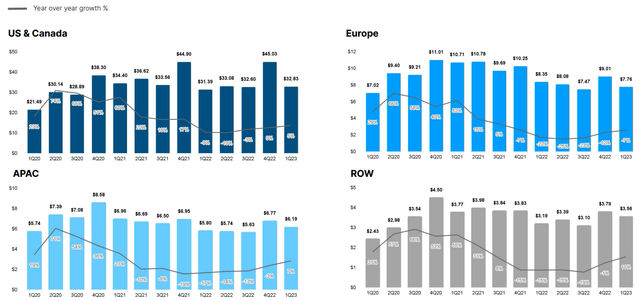 Roblox has stated that its cost of revenue is primarily related to payment processing fees. Given the nature of the business, it seems reasonable to include developer exchange fees and infrastructure and trust and safety expenses in the calculation of gross profit.
Defining gross profit like this shows that Roblox currently has structurally low profit margins, which will be difficult to increase. This highlights the importance of Roblox finding other ways to monetize the platform. As long as Roblox is dependent on users paying developers for experiences/items, and payments predominantly go through app stores, the company will struggle.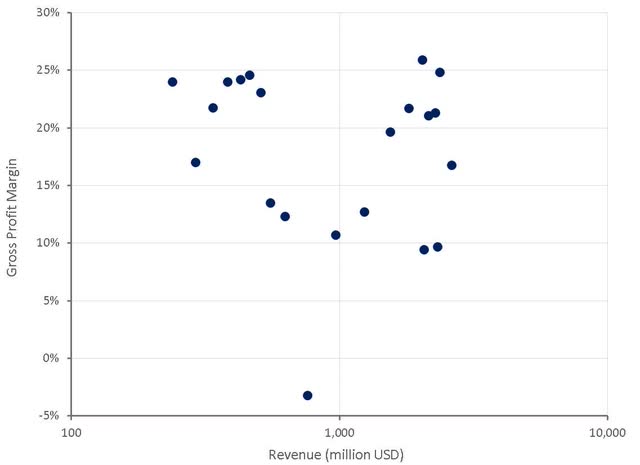 Despite gross profit margin issues, Roblox has made tremendous progress towards achieving operating profitability in recent years. The company is efficiently managed and is able to grow the user base with limited sales and marketing expenditures.
If advertising becomes a viable business for Roblox, a significant proportion of revenue is likely to flow through to the bottom-line, even though sales and marketing expenses are likely to rise.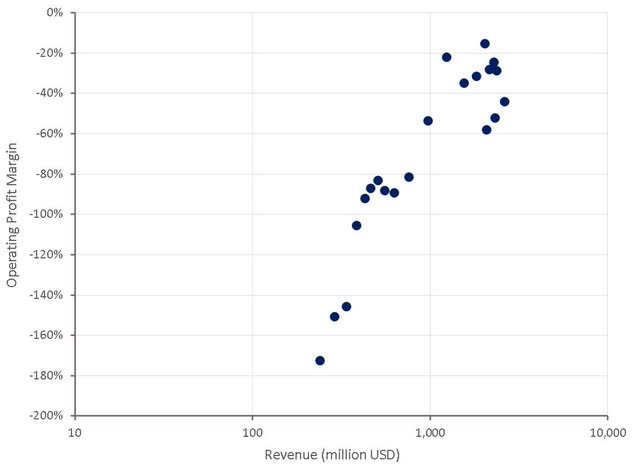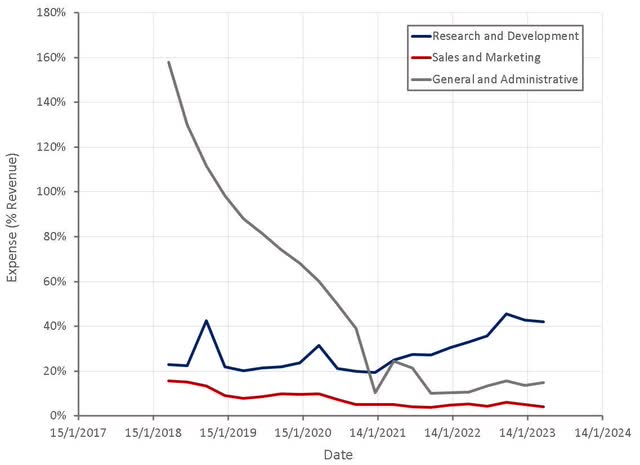 Valuation
Roblox's valuation is quite high given the company's current growth rate and profitability prospects. It seems likely that the market is either pricing in a successful advertising business, or generative AI driving costs lower (safety and developer costs).
Investors also need to consider the large amount of cash Roblox receives from working capital. The company hasn't really been able to capitalize on this due to its losses, but with a transition to profitability, the company could build a large cash balance.
Investors should not become overly enamored with Roblox's cash flows though. Roblox can generate a lot of free cash flow, primarily through working capital, when the business is growing, but when the growth stops, so do the cash flows.