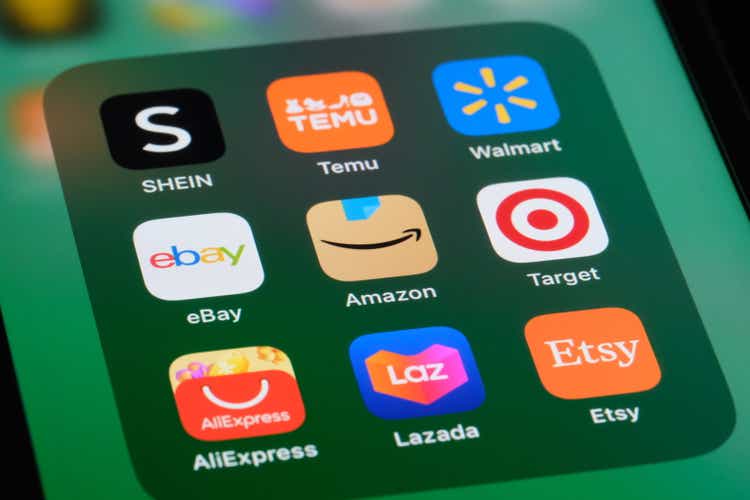 Back in May, I wrote that while PDD Holdings (NASDAQ:PDD) looked attractively valued, I thought there was too much controversy around the name. With the shares up over 50% since then, let's catch up on the stock.
Company

Profile
As a refresher, PDD operates two e-commerce platforms: the Pinduoduo e-platform in China and the Temu platform internationally. Its main e-commerce offering is the Pinduoduo platform, where it entices its users to make group purchases by offering lower prices on team purchases. Most of its revenue is generated from online marketing services for its marketplace, while around 20% of its revenue comes from merchant fees for value-added services.
The company's Temu platform, meanwhile, allows customers to purchase directly from Chinese and other global manufacturers and brands. PDD launched the platform last year.
Big Q2 Lifts The Stock
In my July follow-up on PDD, I said that Q2 was an important quarter for the company, as competitors took aim at the company's Chinese e-commerce platform during the 618 shopping festival in June. The company shrugged off the competition and posted some very big results.
For Q2, PDD saw revenue soar 66% to $7.21 billion, crushing the $6.03 billion consensus in the process. Revenue from online marketing services jumped 50% to $5.2 billion, while transaction service revenue climbed 131% to $5.2 billion.
Gross margins came in at 64.3%, down from 74.7% a year ago. Sales and marketing expenses increased 55% year over year. However, as a percentage of revenue, S&M was 33.5% versus 36.0% a year ago.
The company said it aggressively launched promotions to boost demand, including discount coupons and promotions around the 618 shopping festival. Promotions ran across categories, including in areas of apparel, electronics, cosmetics, and produce. The company said that the overall market in China has been improving and that consumption is up as consumers are more willing to shop coming out of lockdowns.
Adjusted earnings per ADS were $1.44, topping the consensus by 42 cents.
When asked about competition of its call, Co-CEO Jiazhen Zhao wrote:
"We noticed changes in the industry. And as consumption covers and consumers show stranded demand, it's not surprising for us to see peers setting up on subsidies. Competition is indeed becoming more intense. And we believe that healthy competition, which is driven by consumer-centric goal can benefit the industry, which includes not only the consumers, but also the platforms as well. The e-commerce industry is always rapidly evolving. And for us, the key to adapting to the rapid changes is not to focus on what our competitors are doing. Instead, it is to stay laser-focused on consumer demand and shop our own skills and also to face competition directly and also briefly. We channel competitive pressure into more motivation to strengthen our core competencies and focus on implementing our high-quality development strategy. And serving customers well is at the core of our value creation. We are deepening our capabilities of providing more services, more savings remains very important to us. And last quarter, for example, we invested $1 billion in the generating promotion to cover all product categories and make sure consumers have access to quality products at affordable prices. And positive consumer experience requires a comprehensive effort. It is not just about price, and we continue to focus on R&D to understand and also adapt to consumers' evolving needs to help consumers shop with a peace of mind. We also work very hard to provide better services, which includes, for example, upgrading logistics and also after-sale support."
The company did not give much of an update on Temu when asked about it, only saying that it is still currently in the learning stage and that its team is laser-focused on understanding cultural preferences and consumer demand in international markets.
Despite reports of weaker-than-expected spending by the Chinese consumer during the 618 shopping festival and increased competition coming from the likes of JD.com (JD) and Alibaba (BABA), PDD put up strong results in Q2. The company does appear to have sacrificed a lot of gross margins to grow, but the trade-off this quarter was worth it.
I'd still like to see some disclosures around Temu and what that platform is actually contributing to sales at this time. It also seems odd how all media reports indicated that the 618 holiday was weak while PDD put up such strong growth. By comparison, JD's Retail unit saw 5% growth, while BABA's Taobao and Tmall saw revenue grow 12% in the quarter, so the 66% revenue growth from PDD was miles ahead of two competitors that were taking aim at the company.
Bear Attack
In my original article on PDD, I noted that the company had a lot of controversy around it, as its main platform had been discovered to allegedly spy on its customers and there had been a lot of allegations against its Temu operations, including the U.S.-China Economic and Security Review Commission putting out a report that it and Shein were potential risks to the U.S.
Not surprisingly, with the stock rallying, the company has come under the scrutiny of shorts, with Grizzly Research posting a short report earlier this month. Much of the report goes into the issues with Temu and accuses it of basically being malware/spyware. Given the concerns of the U.S. government about the app and that the company's main platform was caught spying on its Chinese customers, this argument isn't much of a stretch in my opinion.
However, Temu shouldn't be the driver of the stock – although we can't be sure because the company doesn't disclose anything about it or talk much about it. Along these lines, Grizzly also points out that PDD's reporting is very much a black box, with the company eliminating disclosures over the years, including things such as GMV, monthly active uses, active buyers, and annual spending per active buyer. The report also points out the increasing competition, which I've talked about, as well as a myriad of other issues.
A short report coming out on PDD shouldn't come as a surprise, given the well-documented controversy surrounding Temu. The company has become less transparent over the years, which also leads to more scrutiny. At my old firm, while I did not cover the company, I know after the company IPO'd we had some concerns over the way it reported some metrics. While public short reports are often sensationalized, I think PDD needs to be a lot more forthcoming with its metrics, especially with regard to Temu.
Valuation
PDD trades at 15x the 2023 EBITDA of $7.0 billion and 11.6x the 2024 EBITDA consensus of $9.1 billion.
On a PE basis, it trades at 20.6x EPS estimates of $4.80. Based on the 2024 consensus for EPS of $5.94, it trades at 16.7x.
It's projected to grow revenue by 78% in 2023 and 24% in 2024.
The stock trades at a much higher valuation than its Chinese e-commerce peers but is also projecting much stronger growth.
Conclusion
With PDD's recent surge in price and the controversy surrounding Temu, I'm going to move the stock to "Sell." To me, the company's most recent numbers don't make a lot of sense given the media commentary on overall 618 holiday spending and how its peers who were aggressively going after the same market as PDD performed.
This could indicate that much of this growth could be coming from the highly controversial Temu, which is currently under scrutiny by the U.S. government as a threat. Without PDD giving transparent disclosures, no one on the outside actually knows whether Temu has become a growth driver for the company or if it is a small contributor, but the company has been aggressively promoting and expanding the platform. If the government bans the app or takes other action, though, PDD's stock will likely take a hit.