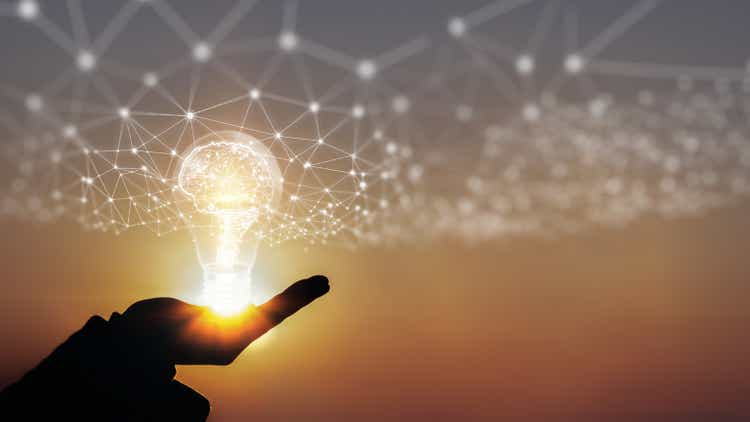 Introduction and investment thesis
monday.com (NASDAQ:MNDY) released its 2023 Q1 financial results on the 15th of May, which showed continued strength on the company's top and bottom lines. Despite a challenging macroeconomic environment and a strongly competitive market, monday.com managed to set several new records in different company specific metrics in the quarter like enterprise customer net adds or FCF generation.
This has been coupled by continued innovation as the company started the release of mondayDB, a new data infrastructure for its Work OS platform. Furthermore, monday.com opened its new sales CRM product for specific existing customers, which has been also a great success during the quarter. And of course, an update on the company's AI strategy has accompanied the Q1 shareholder letter and earnings call as well, which is nowadays a must if you are a SaaS company.
Taking all things together, monday.com seems to strengthen its disruptive position in the project and work management [PWM] space remaining my top pick in the sector for the time being. If you are interested in a detailed discussion on the company's position in the PWM space before diving into Q1 earnings see my article titled: "monday.com: Making A Difference".
Enterprise customers and sales CRM product driving topline growth
monday.com reported revenues of $162 million for its first quarter in 2023 an impressive 50% growth YoY. This has surpassed the average analyst estimate by 4.5%, which was in line with previous quarters:
For Q2 monday.com projected revenues in the $168-170 million range, which would mean 43% YoY growth at the midpoint, if we factor in the usual ~5% beat: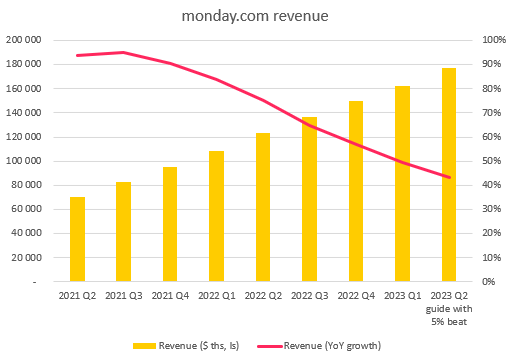 Although this would mean further deceleration in topline growth, but much smaller than previously feared amid a general macroeconomic slowdown. In the top of that, monday.com increased its FY2023 revenue guidance by $13.5 million to $704 million at the midpoint, twice the size of the Q1 revenue beat of $7 million. This obviously signals further optimism from management and is a good sign that things in Q2 are still tracking well.
The main driver behind this strong revenue growth has been the enterprise segment, which monday.com defines as customers with ARR above $50.000. The number of these accounts grew to 1,683 for the end of Q1 a record increase of 209 during the quarter: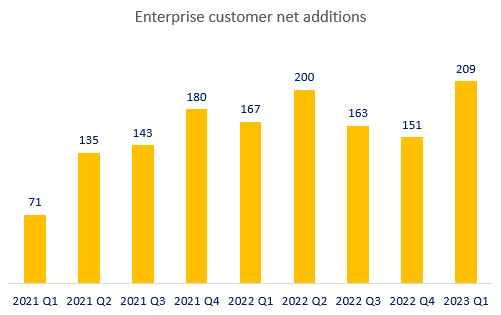 I believe that in the light of recent tech budget cuts by larger enterprise customers in the SaaS space this is an exceptional performance. Based on the Q1 earnings call one reason behind this has been the larger initial deal sizes the company encountered during the quarter. Besides, monday.com released its new (launched in August, 2022) sales CRM product in Q1 to a selection of existing customers as well, which gained traction quite quickly. The company ended the Q1 quarter with 5,441 sales CRM customers, more than double the number just one quarter before: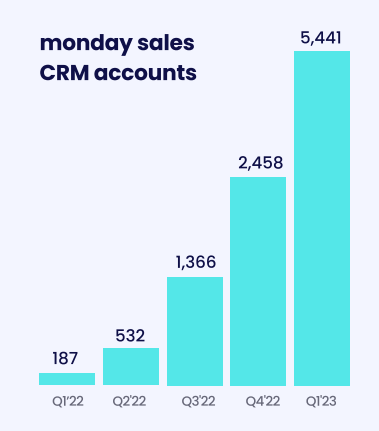 On the top of that, the company also began to release (available by ~30% of accounts) its freshly developed database architecture, mondayDB, which significantly reduces the time for loading larger and more complex boards. The following chart has been shared by management in the Q1 shareholder letter about mondayDB's ability to improve efficiency:
The chart shows that as the number of items in boards increases the new database architecture manages to keep loading time close to constant, while it significantly increases using the previous architecture. I think this solution favors mostly enterprise customers, who tend to create more complex boards with monday.com Work OS, so it's another strong sales argument for this segment. I believe that based on this, the record jump in enterprise customers is not just a coincidence and it has further room to go. The company's effort to win the enterprise segment has been already visible in recent quarters as the ARR contribution of this cohort increased from 22% in 2022 Q1 to 28% in 2023 Q1.
According to management, monday.com will focus this year on its existing product line, which has been further simplified recently. It includes monday work management, the core project management solution; monday sales CRM and monday dev, the company's solution for product development management, which is just out of beta. Meanwhile management sees still favorable trends in the performance marketing space (e.g.: online ads), so they decided to double down on this spending category, which could provide strong support for the growth of these product lines throughout 2023.
Further growth levers to pull
Besides current growth drivers mentioned above there are other important projects going on at the company that could support topline growth in the upcoming years. The Apps Marketplace is one of them, where external developers can build on monday.com's existing platform to meet different industry and company specific PWM needs. It experienced a nice uptick in both total and monetized Apps in recent quarters, which can be seen as follows: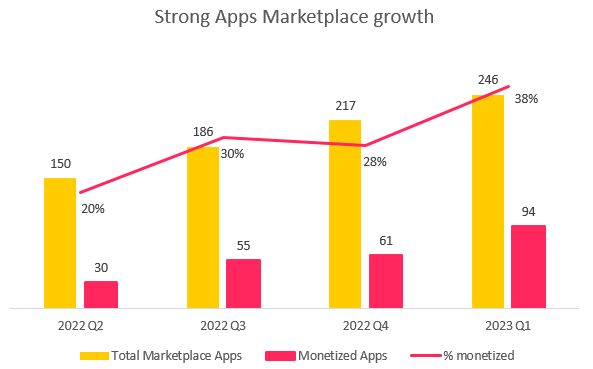 In the most recent quarter, the number of monetized Apps grew by ~50% signaling strong momentum. I suppose, the beneficial effects of the new partnership with Appfire (announced 2022 Q4) are already visible. On the top of that, management shared on the Q1 earnings call that they partnered with another collaboration app provider, Adaptavist Group for an app accelerator project.
These efforts show that monday.com takes its mission very seriously, which is to be build a truly open PWM platform that can be tailored by external developers to different industry and company specific needs. Based on previous earnings calls management doesn't expect significant contribution to revenues from the Marketplace this year but it should be an important growth driver in the medium/long term.
Another important aspect of future growth is of course AI, which has been the first topic to be discussed in management's Q1 shareholder letter. Regarding user efficiency the company launched the first version of its AI assistant, which supports automated task generation, writing of emails and document summaries with more functions to come. Besides customer-oriented projects monday.com is utilizing AI also in-house to improve internal efficiency and thereby increase margins.
Finally, the company is opening its platform in June for 3rd party developers to build AI apps, which will be available on the company's AI Assistant infrastructure. These actions demonstrate in my opinion that the company has kept its innovative nature, which I regard as a highly valuable trait in this competitive market space.
Significant improvement in margin profile
monday.com has managed to reach positive non-GAAP operating profit in the previous, 2022 Q4 quarter for the first time in company history. This time in 2023 Q1 the metric came in flat as result of both seasonally and strategically increasing S&M expenses in addition to further increasing R&D expenses:
For FY2023 management guided for ~1% positive non-GAAP operating margin, which would be a significant improvement after the negative 9% of FY2022, although it seems a little conservative in the light of recent results. In my opinion this could pave the way for further beat and raise in the upcoming quarters.
Looking at the company's cash generation ability we saw another record in the Q1 quarter with $38.7 million resulting in a FCF margin of 24%:
With this, the company increased its cash balance to $936 million with no long-term debt on its balance sheet. Although it's a good setup for potential acquisitions, management told investors on the Q1 earnings call that they shouldn't expect larger acquisitions on the short run as the company focuses its efforts on organic growth for the time being.
It's important to add at this point that FCF margins could fluctuate from quarter to quarter to a great extent (e.g.: changes in timing of cash outlays and collection, timing of exercise of share options and related tax effects), so investors shouldn't consider 20%+ FCF margins as a new norm. As an example, the proceeds of option exercises and employee share repurchases plus the related tax effects resulted in additional cash inflow of $11 million during the quarter, ~28% of total FCF generated. This won't be the case every quarter. Management left investors with a conservative comment in that regard:
"We now expect to report positive free cash flow on a consistent quarterly basis moving forward and to achieve our third consecutive year of being free cash flow positive in fiscal 2023." Eliran Glazer, CFO on Q1 earnings call.
I believe the main point regarding the company's bottom line is that the trend in margins is positive and the long period of constant cash burn has come to an end. However, investors shouldn't expect a CrowdStrike (CRWD) or Snowflake (SNOW) like FCF margin profile for a while as monday.com continues to invest aggressively in future growth in a very competitive market. Although, I believe that the further improving gross margin profile (89.5% in most recent quarter, see below) suggests that the time will come when monday.com could possibly join the above-mentioned elite:
Valuation multiple has further room to expand
Although monday.com's share price increased significantly during the past two weeks it only reached levels last seen in March this year. With this, shares currently trade at a forward Price/Sales multiple of 9.6. For some investors this could seem a bit lofty for the first sight, but if we consider that revenues could possibly increase at a CAGR of ~30% in the upcoming 3 years the multiple could decrease to ~4.4 over this time horizon.
Applying a 20% net margin profile to this, which I believe is a real possibility for the company over the long run we would get a hypothetical forward P/E ratio of 22 for 2026. In my opinion the strong growth prospects of the company stretch far beyond this time horizon, which would justify a much higher multiple, possibly even twice as high. This shows that monday.com's valuation multiple has enough room to expand from current levels in the upcoming years.
Updating my relative valuation matrix (based on forward EV/Sales and revenues) within the public PWM space shows that shares are still valued conservatively when compared to the closest rivals: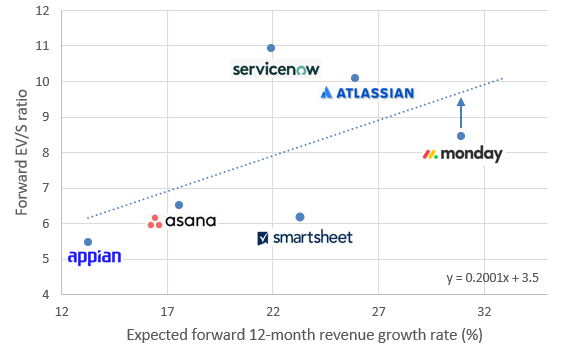 Compared to monday.com the shares of ServiceNow (NOW) and Atlassian (TEAM) are still significantly valued higher by the market despite weaker growth prospects. In addition, the shares of Asana are closer to the theoretical forward EV/Sales valuation multiple that its growth rate suggests (blue dotted line), although it's typical for the highest growers to be close or exceed this line. Based on this I believe, that monday.com's shares are still valued conservatively compared to some other competitors in the PWM space and shares should trade at least at the average growth adjusted forward EV/Sales valuation multiple. This would imply a ratio of 9.7 (blue arrowhead) in contrast to the current multiple of 8.45, which means that shares should outperform the average of competitors by ~15%, possibly already on the shorter run.
Risk factors
Finally, there are few risk factors surrounding the company, which are worth to discuss shortly in my opinion.
First, the PWM space is characterized by very strong competition and relatively low barriers to entry. Besides, the solutions companies offer in this space are assessed often quite subjectively in my opinion. We wouldn't find an organization where a handful of people wouldn't complain about the actual PWM solution in use, as it often really depends on personal preferences. Due to these factors, I think it's a rapidly and constantly changing market, where companies must be very flexible to survive. Until now, monday.com has proved that they can keep up with this pace and even drive new trends with their innovative nature. However, it's worth to monitor closely whether these dynamics change in the future. Until they don't, I suggest enjoying the ride.
Second, we are still not out of the woods regarding the general macroeconomic slowdown and the resulting cuts in IT budgets. There has been some good news from different SaaS companies on this front, which led to a rather significant increase in share prices, but investors should be careful, whether this trend continues. If this enthusiasm proves to be premature it could lead to another sharp drop in share prices. I think in the Q2 earnings season it will probably turn out whether we can expect a prolonged turnaround or the softer spending environment continues.
Conclusion
monday.com is a truly innovative company in the middle of a product innovation cycle, which began to bear fruit recently and has much further room to run. This is coupled with a strong balance sheet, constantly improving profitability, and a reasonable valuation, which make shares a good long-term investment in my opinion. Due to the rapidly changing nature of the PWM space it's worth to monitor fundamentals closely by checking whether preceding trends still prevail from quarter to quarter.