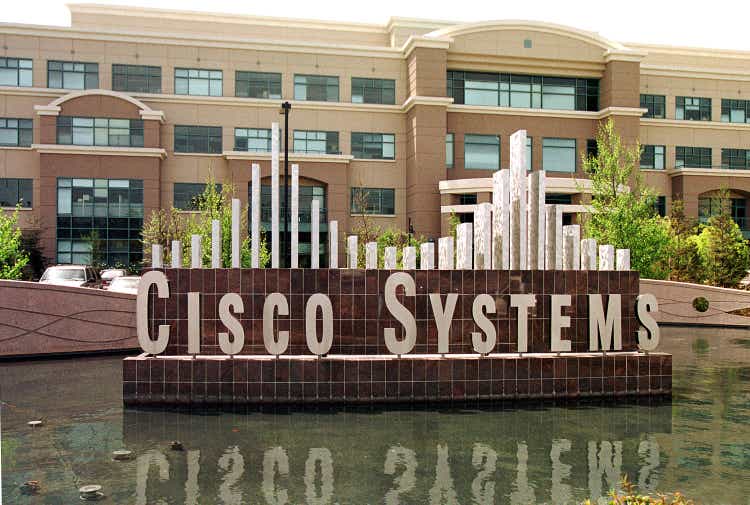 The bear market is making retail and professional investors nervous, but the market will not be down forever. For those who have lived through the dot-com crash and sub-prime mortgage crisis, we know bear markets can last many months, but stock markets eventually reverse course. However, the bear market creates opportunities for many to follow a dividend growth investing strategy. Similarly, investors seeking income from high-yield stocks are likely to buy too.
One stock that should be near the top of your list to buy is Cisco Systems, Inc. (NASDAQ:CSCO), the networking giant. The company is now yielding 3.5%+, and the dividend continues to grow annually. Cisco is a Dividend Contender with 12 years of raises. The bear market, combined with weak Q3 2022 results and guidance, has punished the stock, which is down (-32.5%) year-to-date. The valuation is down 12.7X. I view Cisco as a long-term buy.
Overview of Cisco
Cisco traces its founding back to 1984, when it created its first router. The company snowballed and had the highest market capitalization during the dot-com boom. Today, Cisco designs, manufactures, and sells Internet Protocol networking equipment. Its products include routers, storage, switches, wireless, cybersecurity software, etc. The company sells its products in several categories: Secure, Agile Networks, Internet for the Future, Collaboration, End-to-End Security, Optimized Application Experiences, Other Products, and Services. The company operates globally and is the market leader for networking. Interbrand ranks Cisco as the No. 16 global brand.
Total revenue was $49,818 million in fiscal 2021 and $51,581 million in the last twelve months. Revenue is roughly divided into 75% product and 25% service.
Recent Quarterly Results
The company reported Q3 2022 results below expectations. Cisco still reported growth in some product categories, but revenue was flat, as seen in the chart below. In addition, total subscription revenue declined and was a lower percentage of total revenue, suggesting customers were not renewing subscriptions and migrating to competitors.
The main problem was that growth was slowing and forward guidance for the fiscal year was lower. Cisco's total orders for the quarter were up 8% but were lower than the 33% increase in the second quarter. Even after accounting for the loss of demand in Russia and COVID-19 lockdowns in China, this decline was significant. Furthermore, Cisco's enterprise product orders showed no growth. Demand will likely be reduced further in Q4 FY 2022 because of the war in Ukraine and continued lockdowns in China that are only now being lifted.
Furthermore, Cisco lowered its FY 2022 guidance to $3.29 to $3.37 per share from $3.41 to $3.46 per share, adding to investor concerns.
Cisco's Growth
Despite the slowing demand, Cisco continues to grow organically and by acquisitions over longer periods. The company is the market leader for IP networking hardware and software. Few companies can provide comprehensive end-to-end solutions for networking like Cisco. However, organic growth is hard to come by because the market is not growing as fast as it once was. Competition from other networking or security companies is intense. Arista Networks and Juniper have increasingly provided products that are attracting customers. Additionally, cloud service providers offer overlapping services, reducing organizations' need to operate data centers.
Hence, Cisco has grown mainly through acquisitions. The company uses its prodigious cash flow to make tuck-in acquisitions filling out its hardware and software lines. In 2020, Cisco made nine acquisitions, including Dashbase, Slido, IMImobile, Banzai Cloud, Portshift, BabbleLabs, Modcam, ThousandEyes, and Fluidmesh Networks. In 2021, it acquired six companies, including Reflex, Epsagon, Involvio, Kenna Security, Socio Lab, and Sedona Systems. So far, in 2022, Cisco has made one acquisition, Opsani.
The result is that Cisco's revenue, operating income, and operational cash flow are growing slowly.
Dividend Analysis
Cisco is a dividend growth stock with a 3.5%+ dividend yield. In addition, the company has raised the dividend for 12 years after initiating one in 2011, making the stock a Dividend Contender.
The forward dividend yield is now approximately 3.56%, based on an annual dividend rate of $1.52 per share. The combination of dividend yield and growth makes the stock attractive for many.
Cisco last raised the quarterly dividend in February 2022 to $0.38 from $0.37 per share. The trailing dividend growth rate is 8.23% CAGR in the past five years and 23.37% in the past ten years. After a high initial growth rate, it slowed as the payout ratio increased. However, the relatively conservative payout ratio of ~46% means future increases are probably in store.
Cisco has solid dividend safety from the context of earnings, free cash flow (FCF), and the balance sheet.
Consensus estimates in fiscal 2022 for Cisco are $3.36 per share, and the dividend is $1.52 per share. These numbers produce a payout ratio of ~46%. Our cutoff payout ratio is 65%, meaning Cisco's dividend is safe with a decent buffer.
Cisco had approximately $13,553 million in FCF in the past 12 months. The dividend required around $6,219 million, giving a dividend-to-FCF ratio of ~46%. This value is well below our cutoff of 70%, meaning there is little risk of a dividend cut based on FCF.
One of Cisco's strengths is its rock-solid balance sheet. At the end of Q3 FY 2022, Cisco had $1,000 million in current long-term debt and $8,425 million in long-term debt. Both total and net debt have declined in the past five years. Total debt was offset by $6,952 million in cash and equivalents and $13,156 million in short-term investments giving a net cash position. Interest coverage is roughly 39X. Cisco has an AA-/A1 high grade/upper-medium grade investment credit rating from S&P Global and Moody's. Debt is not concerning from the perspective of dividend safety.
Valuation
Cisco's stock price has struggled in 2022, down more than the S&P 500 Index and Nasdaq. However, the company has solid dividend and return perspectives. Cisco is trading at a forward P/E ratio of about 12.7X, at the lower end of its average range in the past ten years and below its range in the past 5-years.
The consensus analyst 2022 earnings is now $3.36 per share. We will use 14X as a reasonable value for earnings multiple. This value is below the average in the past decade. However, we account for difficulty growing revenue and earnings per share combined with potentially lower demand in fiscal 2023.
Our fair value estimate is $47.04. The current stock price is ~$41.93, suggesting that the stock is undervalued based on earnings.
Applying a sensitivity analysis using price-to-earnings (P/E) ratios between 13X and 15X, we obtain a fair value range from $43.68 to $50.40. Thus, the current stock price is ~76% to ~89% of the reasonable value estimate.
Estimated Current Valuation Based On P/E Ratio
P/E Ratio

13

14

15

Estimated Value

$43.68

$47.04

$50.40

% of Estimated Value at Current Stock Price

96%

89%

83%
Source: dividendpower.org Calculations
How does this compare to other valuation models? An EV/EBITDA multiple analysis from finbox gives a fair value estimate of $54.46 per share. The model assumes a forward multiple of 11.2X. Portfolio Insight's blended fair value model accounting for the P/E ratio and dividend yield gives a fair value of $50.55 per share. Finally, the Gordon Growth Model gives an estimated fair value of $50.67, assuming an 8% desired rate of return and a 5% dividend growth rate. The dividend growth rate estimate is conservative and below the average over the past 5-years.
The average of these four models is ~$50.68, suggesting Cisco is undervalued at the current price.
Final Thoughts
Cisco's high growth years are well behind it, but the company is still the dominant market leader for networking. Revenue grows slowly, and bolt-on acquisitions are helping. Moreover, the company's prodigious FCF permits it to pay a growing dividend and lower the share count. The net cash position on the balance sheet provides flexibility to return cash to shareholders. Cisco is yielding more than 3.5%, the dividend likely has many more years of growth, and the stock is undervalued at the current price. I view Cisco as a long-term buy.