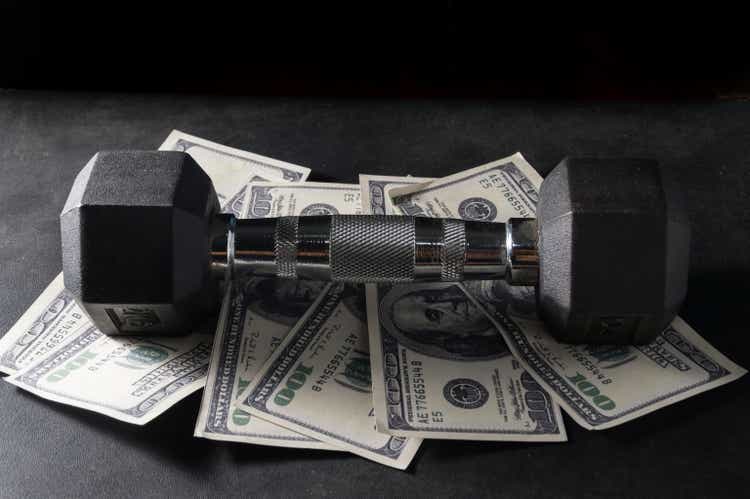 The new year, 2023, is upon us. And it seems to be that time of year for New Year's resolutioners to start exercising again. While Basic-Fit N.V. (OTCPK:BSFFF) could benefit from some of those good intentions, it would still undermine its very strong long-term potential, and its very asymmetrical risk/reward profile.
In this article, we explain why Basic-Fit is greatly undervalued and why it could deliver tremendous returns in the coming years, through 2030 and for years beyond, as the "Ryanair" or "Planet Fitness" of gyms in Europe.
A Genius Mixture of Domino's & Ryanair
So, what is Basic-Fit, and why are we so positive about it? Basic-Fit is exactly what the name implies: it's a low-cost gym with locations throughout Europe, mainly in the Netherlands, Belgium, France and Spain. They also have clubs in Luxembourg and recently started expanding into Germany.
They ended the year with 1,200 clubs, according to their most recent report. By the same token, they ended the year with a stunning 3.35 million members, up from 2.22 million at the beginning of the year.
Their founder initially started by opening premium stores, but then discovered the huge demand for low-cost gyms, and since 2010 they have continued to grow at a rapid pace. Back then, they started by offering very basic memberships around €19.95.
The staggering fact is that the stock is still trading at the same price level, while memberships have nearly doubled since 2018, due to the pandemic and bearish sentiment around Europe entering stagflation with an energy crisis.
Yet we don't think those factors are overly affecting Basic-Fit, given its tremendous growth and unit economics. They're basically a mix between Ryanair and Domino's Pizza. Ryanair in the sense that in Europe, low-cost carriers have been dominant in recent years. And we continue to see that happen in other sectors, such as the success of Aldi and Lidl.
And they are also like Domino's Pizza, in that they use population figures, to cluster their stores, to keep the competition away and be as close to their customers as possible. Currently, they are really the only entity that has this many of gym locations, cleverly clustered across these cities.
That is also one of the main reasons why they are so successful: with a premium membership, you have access to all Basic-Fit gyms across the country, and even in other countries where Basic-Fit operates. That level of clustering, is what makes the company so special. It also makes it so that people can go to the Basic-Fit closest to their work or home. Or students can visit another Basic-Fit if they are studying in a different city other than closer to home.
They create market share or gain market share from the usually smaller, low-cost gyms by providing access to hundreds of gyms for a very low price, and by creating a broad barrier to entry that can only be surpassed with huge amounts of capital, scale and years or decades of expansion, as they spread certain costs across their 1,200 gyms.
At the same time, they are still experiencing the tailwinds of the underdeveloped fitness market in Europe, which is likely to come closer to saturation like the United States and Scandinavian countries, which are at 20%. Markets such as France and Belgium currently only have a penetration rate of about 10%.
Cost And Unit Economics
So let's take a look at the costs and economics of Basic-Fit, because we think these have been completely overlooked. That could also simply be because it is an overseas asset, traded in Amsterdam on Euronext. Nevertheless, it is a €1.95B ($2.12BN) company.
Basic-Fit has also fairly recently changed its membership structure in France, where you still had a basic subscription, which is now being replaced by a "comfort" subscription, which will cost €24.99 per four weeks to access all clubs in France or €29.99 for Premium which gives you access to clubs across Europe. We think we could start to see that tailwind soon, releasing even more upside potential, as France is currently their largest target market.
But to look at Basic-Fit's cost structure, we first look at what makes a mature club. A mature club is one that has generally been around for about 24 months. On average, it costs Basic-Fit €1.2M to build a club. An adult club has an average of 3,350 members per club. That means they bring in €840K per year per club.
Now the club still has two costs: overhead costs for the club itself, and shared costs that are shared between the clubs. Of the €840K revenue, about 50% goes to Rent (about 17.5%), Labor (about 15%) and other costs (about 17.5%). Which means we are left with €420K of EBITDA per club. In other words, with the 1200 clubs they already have, they should be able to bring in an EBITDA of over €504M at the end.
Of course, you have to subtract from that the shared costs per club, such as headquarters costs, marketing, car rental, etc. Currently, those expenses are still a bit high because, of course, they are still expanding new clubs. Their guideline currently is about 6% of revenue for marketing, and 5-6% for headquarters costs in the medium term due to operating leverage.
That leaves €100.8 million for shared overhead. If we take the clubs' €504 million EBITDA and subtract the shared costs, we are left with €403.2 million adjusted EBITDA. For a company that grows memberships and clubs by over 20%, it is only trading at 4-5x adjusted EBITDA, which we think is extremely undervalued.
This operating leverage with shared costs should only grow, as the incremental cost of monitoring more clubs should remain more or less the same. It is somewhat the principle of Wright's Law, after which we named ourselves. For each cumulative doubling of the number of units, the cost decreases by a fixed percentage. The law applies perfectly to Basic-Fit, which is currently growing rapidly.
Despite being a European company, they are very innovative when it comes to cost savings. Like you can see in the image above, they use AI and computation to monitor their facilities, which they can operate 24/7. Unlike smaller fitness chains, they are also able to centralize every data point they have in order to optimize gym temperature, energy cost savings, repairs, etc.
We believe no other competitor even comes close to the level of operational leverage that Basic-Fit currently has. It is virtually impossible to compete as an individual gym that employs 4-5 people as cleaners, bookkeepers, trainers and managers versus a grassroots gym that can theoretically operate 24/7 without full-time employees.
Valuation
Taking into account the golden rules of value investing, there are always two rules to follow. Rule #1 is don't lose money. Rule 2 is: don't forget rule #1. Basic-Fit seems to fit well into this category, as current earnings provide great downside protection, as the company with their mature clubs right now only trades at 4-5x adjusted EBITDA.
But when it comes to what 2030 might look like for Basic-Fit, the upside potential seems huge. They are aiming to expand to 3000-3500 clubs in Europe, adding clubs to the countries where they already operate, while also expanding into new countries such as Germany. They maintain and set their requirements at 30%+ ROIC per club. That, with 20%+ growth in revenue and members.
To stay grounded and remaining somewhat conservative, we assume the low margin of their target of 3,000 clubs by 2030. For the number of members per club, we stick to 3,300 members per club for mature clubs, as we see now and for 2019 in normal times. That would equate to 9.9 million members by 2030.
Revenue per member in October 2022 is €22.50 per month, although we think there is much more leverage because Basic-Fit is priced much, much lower than its competitors. But for this valuation, we assume that Basic-Fit will keep this average monthly price pretty close to absorb all the market share, despite high inflation in Europe and other gym chains raising their prices. We think inflation in Europe could be at least 4%. That would mean that their subscription, adjusted for inflation, should be worth €29.5 in 2030.
But in 2030 we assume €25.5 per month. That would bring Basic-Fit's revenue to €252.45M per month, or €3.03BN per year. In terms of Club EBITDA, which is currently 50%, we think there will be more margin as Basic-Fit achieves economies of scale. But for this example, we will stay at 50% Club Margin, bringing Club EBITDA down to €1.51BN per year. For overhead costs, however, we believe there is tremendous leverage as they remain relatively fixed as scale increases. Shared overhead costs at 8% of revenues would equate to €242.4M. €1.51BN minus €242.4M shared overhead brings us to €1.27BN group EBITDA.
We still have to deduct maintenance costs, which management says are about €70K per adult club annually, or €210M per year. Net interest expense should come down to about €90M. If we deduct these costs, we arrive at €970M pre-tax. We apply a simple flat tax rate of 25% and subtract another €242.5M, arriving at a final result of €727.5M.
The last piece of the puzzle we still need is the number of shares that will be outstanding. We think Basic-Fit will use excess capital to repurchase shares rather than pay dividends as long as they are growing.
Bearing any unforeseen circumstances, we expect to become self-financing halfway 2023 … I can clearly say that we will finance our own growth. We'll be able to finance our own growth with our own money that we make, our own cash flow. And that will be in the second half – as from the second half of 2023. No different circumstances, no lockdowns, and based off, of course, on the amount of openings that we want to do. (1H 2022 Meeting)
That means they could outlay the excess cash they generate to buy back shares unless they are able to grow faster and still meet the 30% ROIC criterion. According to our calculations, they might be able to buy about 6% of float annually, which would reduce the number of shares from 66 million to 38.28 million by 2030.
In short, with 38.28 million shares outstanding and €727.5 million in earnings, our estimates put us at an EPS of €19.00 per share in 2030. At a reasonable multiple of 15x, that would mean a share price of €285 per share, or an amazing CAGR of 38.13%.
The Untold Leverage
Even though those estimates already sound preposterous, there is room to believe there could be even more upside beyond our estimates, and beyond 2030. Let's examine what leverage Basic-Fit could exert if they finally decided to increase membership fees, since they are still well below the industry average.
Let's say they increase membership fees by €1. Price increases alone, in a subscription form, flow directly into the results, unless membership numbers deteriorate, of course. But a price increase of €1 per month, at 9.9 million members in 2030, means an additional €9.9 million per month, or €118.8 million per year in pure profit. At a multiple of 15x, that extra €1 per month could add another €1.78BN in market cap to the stock.
We think market participants are completely overlooking Basic-Fit's leverage in this regard. They are also quite resilient to inflation. Like Coca-Cola, they have the advantage of enormous scale and can make a huge difference with a small price increase.
If you really want to play the population game, and try to imagine where Basic-Fit might end up, we can look at the aspirations of Planet Fitness. They see a potential of up to 50% market share in the US. If we calculate that back to Europe, the maximum potential could even exceed 35 million members, in some of the countries we think they could enter.
| | | | |
| --- | --- | --- | --- |
| Total | 352.33M | 70.47M | 35.23M |
| Country | Total Population | 20% Propensity | 50% Share |
| Spain | 47.42M | 9.48M | 4.74M |
| Portugal | 10.33M | 2.07M | 1.03M |
| France | 67.75M | 13.55M | 6.78M |
| Belgium | 11.59M | 2.32M | 1.16M |
| Netherlands | 17.53M | 3.51M | 1.75M |
| Germany | 83.20M | 16.64M | 8.32M |
| Switzerland | 8.70M | 1.74M | 0.87M |
| Italy | 59.11M | 11.82M | 5.91M |
| Poland | 37.75M | 7.55M | 3.78M |
| Austria | 8.95M | 1.79M | 0.90M |
As for management, they also seem to be very down-to-earth entrepreneurs, with the CEO still a founder. The founder, René Moos, used to be a professional tennis player, and seems to have brought his competitive spirit to the business landscape. Management seems very united and is trying to look 10 years ahead.
The management team is also relatively prudently compensated compared to companies in the United States. René Moos, who currently owns 14.37% of the outstanding shares, actually bought some more shares on the open market in November when they were trading around €22. He bought an additional 150,000 shares.
Risks To Our Thesis
As for the risks in our thesis, we cannot immediately identify clear direct threats, but would perhaps point to some of the smaller gym chains. We also think that one of the reasons Basic-Fit has been able to make so much progress is that they have had access to capital markets and strong venture capital because their business model works brilliantly.
Just as in theory it would be possible to compete with Ryanair, in practice it is a mission that not many would want to fund. Paradoxically, Basic-Fit seems to be the only giant in the room that has such robust liquidity and access to capital. Many of the smaller players are either highly leveraged or unable to raise capital or expand efficiently, it seems to us. It's a difficult flywheel to get started. And it's not like the current players are eager to pick a fight.
Landlords also want to rent to Basic-Fit because of their credit rating. And now that they've clustered their locations, they were the first ones to do that and have the first man advantage. You would have to be considered a kamikaze to open an individual gym in a cluster of, say, three Basic-Fit gyms.
Unlike the United States, venture capital markets and going public as a company seem to be much less the culture. Europe is not Silicon Valley. And with the ECB and Federal Reserve tightening policy, it's becoming even more difficult to raise additional capital for those players in that increasingly expensive Eurodollar market.
Outside of competition, the company may still face headwinds in the short to medium term as Europe continues to face an energy crisis and what appears to be a stagflationary environment. Although Basic-Fit can be seen as a company more resilient to all weather conditions, as a cheap fitness club membership is usually the last thing people want to skimp on.
They have fixed price contracts for 75% of their projected energy consumption by 2023 and have created an energy task force to reduce their energy expenditures. We believe that by 2030, most, if not all, energy shocks will be gone.
Basic-Fit currently has net debt of about €690 million, which they should be able to carry as they self-fund in the second half of 2023. They have a revolving credit facility/syndicated loan and a net debt/adjusted EBITDA covenant of 3.5x, which we believe will not be exceeded unless there is another force majeure like in 2020.
The Bottom Line
We regard Basic-Fit as one of the best value propositions currently available in the equity markets. It is a fantastic business model, with a large moat, and is efficiently run by a management team with a long-term vision.
The company seems to be in the unique position of being the first to trade and build a wide moat around its fortress with clustered gyms. The fact that it currently trades at 4-5x the clubs' current mature underlying EBITDA makes it dirt cheap and should provide a hedge against downside risk, with the upside being in excess of 35% CAGR. The bearishness around Europe, its energy crisis and stagflation environment should not include Basic-Fit.
And perhaps it is overlooked because it is a hidden asset traded on Euronext, and its results are not yet visible in its current revenue/cash flow statements. In a European fitness market, with more than 63,000 gyms, we seem to be early to the party.
Editor's Note: This article discusses one or more securities that do not trade on a major U.S. exchange. Please be aware of the risks associated with these stocks.