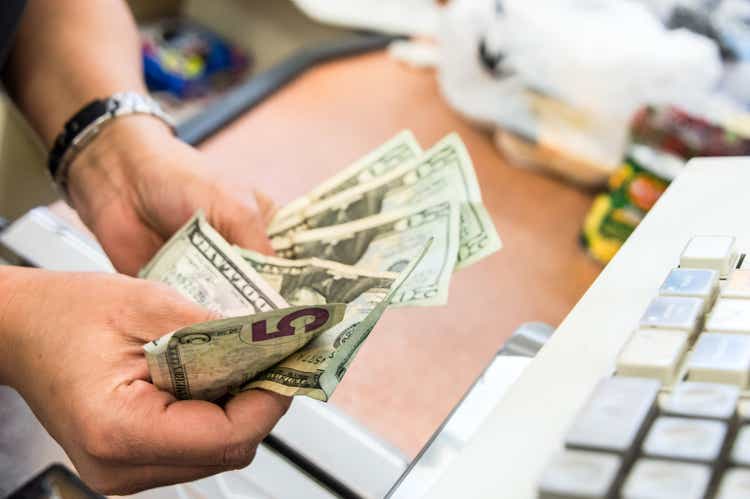 The World's Leaders in Convenient Food Retail
Due to the fact that America's 7 Eleven chain has been held by a Japanese-based holding for some time now, Seven & i Holdings (OTCPK:SVNDY) (referred to as 7 Eleven from here on), the company has faded from American investor's minds. At the same time, Kroger (NYSE:KR) has dominated other food retailers in the US and is set to continue to do so. Kroger is mostly exposed to supermarket retail in the US alone, and this comes with pros and cons. Therefore, it may be a welcome hedge to compliment your investment with an equal pairing with the nearly global 7 Eleven. This article will list the major reasons why I believe this will play out for investors in the end.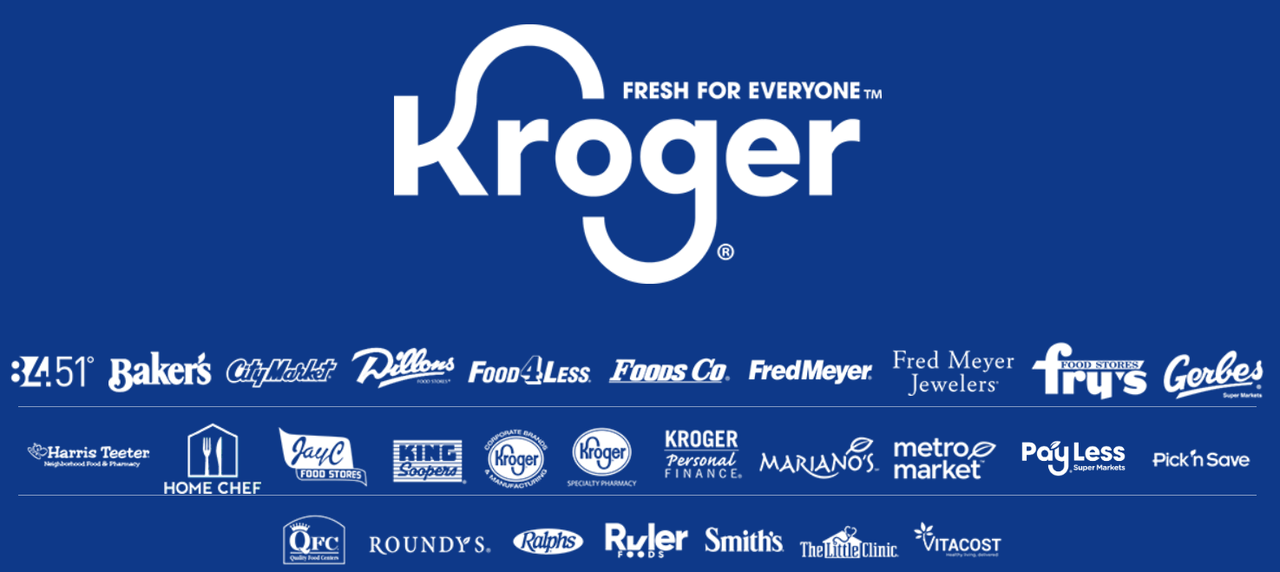 Similar, Yet Different
Kroger and 7 Eleven are two of the largest food retailers in the world, and both see more sales than larger market cap competitor A. Couche-Tard (OTCPK:ANCTF), owner of Circle K. A few major similarities are that both are diversified across convenience stores, supermarkets, pharmacies, retail, food manufacture, and even fuel sales. Also, they both have over $100 billion in annual sales each (incl. franchises), across all segments. And, both are profitable enough to invest heavily into innovation and operational efficiency. At the same time, 7 Eleven has 35,000 stores in approximately 100 countries, while Kroger has 2,742 supermarkets, 2,255 pharmacies and 1,596 fuel centers, within only 35 US states. Also, Kroger has a focus on supermarkets, while 7 Eleven's focus is on convenience stores.
As a Californian, I am a regular of Kroger's Ralph's and Food4Less, while as a traveler I have been to 7 Eleven locations across the US, Japan, and Australia. As such, I am familiar with both businesses and would tend to believe that both offer incredible resilience to disruption, especially as 7 Eleven bounces back after lockdowns and a lack of tourism worldwide. Due to the similarities, one would imagine similar investment profiles, but in fact 7 Eleven tends to be the laggard, as Kroger has had incredible growth over the past two decades, and more.
With that, Kroger and 7 Eleven have extremely little correlation between the share price and this is an important reason why an investor can consider both companies as investments. This is when the differences between the two companies begin to make for opportunity. In short, buy both and see a hedging effect against volatility. But, I will now address the financial differences between the companies.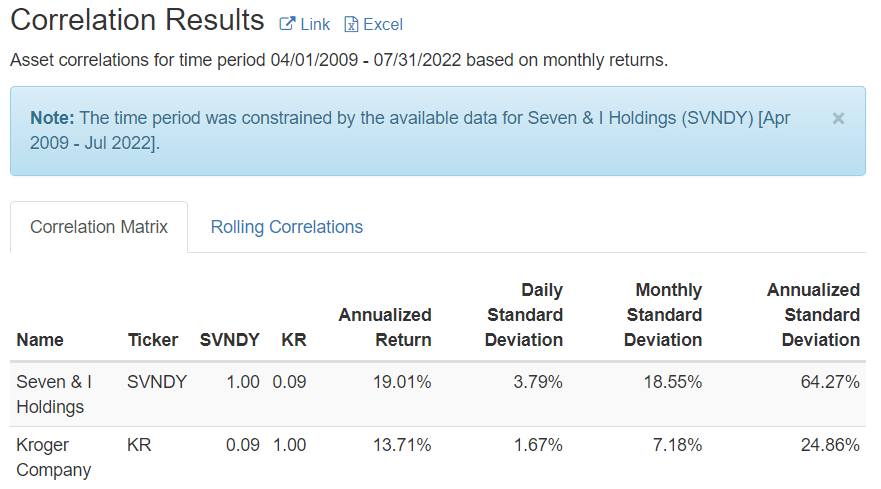 Financial Comparisons
Kroger and 7 Eleven are not glamorous stocks, nor will they provide the ultimate growth profile, however, as consumer staples, they are a rock of any portfolio and allow investors to gain a margin of safety over other industries. Also, Kroger is clearly the strongest growth name between the two companies thanks to their frequent acquisitions and 100% exposure to the US. The answer for capital gains seekers is clear, stick with Kroger if that is all you need. However, I will focus on the stability and health of each company as I find there are patterns that emerge to benefit a complimentary investment.
First, I will discuss what credit agencies have to say on both companies. Credit ratings are a great way to compare similar companies and establish an idea of the health of the company, either by seeing changes in the ratings over time or with the notes provided. According to Moody's (MCO), Kroger rates at Baa1, while 7 Eleven is one rank higher at A. However, one point to note is that 7 Eleven recently issued new debt, and the Japan Credit Rating Agency lowered their rating on the company to AA from AA+. As both companies rate in the mid-range of investment grade, I believe both offer equal safety.
Next, we can look at leverage as another indicator of financial health over time. We can see that historically, Kroger was more leveraged than 7 Eleven, but, the recent issue of debt and reduction in cash (after acquiring Speedway from Marathon Petroleum (MPC)) have put the companies on equal EV/EBITDA terms. However, KR still has more net debt overall, and the trend remains in an increasing pattern. As 7 Eleven normalizes after the acquisition, I expect the company to return to their historically conservative balance sheet management. Kroger will likely remain focused on leveraged buyouts for growth, so I do not expect major changes to their balance sheet management.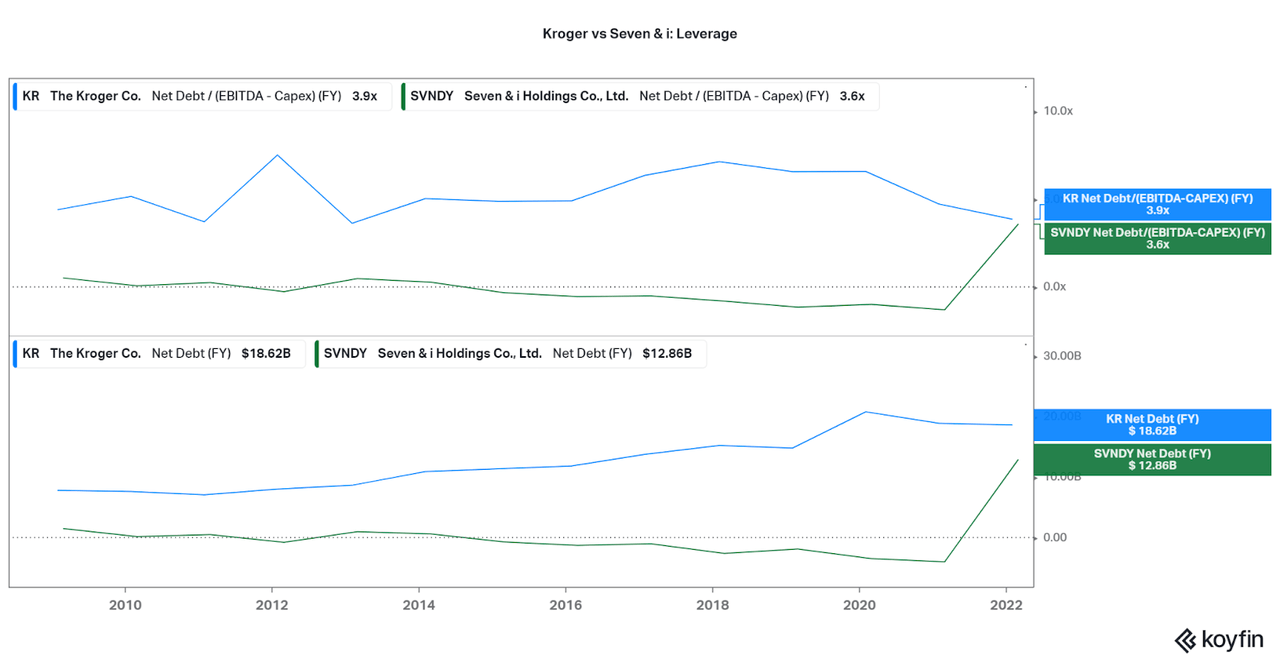 In terms of profitability, Kroger has recently overtaken 7 Eleven in total net income per year, only to fall behind recently. This is even as 7 Eleven faces weakness from the decline in global tourism that favors convenience store sales, especially in Asia. However, Kroger consistently has far higher gross margins than 7 Eleven, and operation improvements may lead to improvements in net income margin. Then, 7 Eleven may no longer be leading net income margins by double, but I am unsure if and how fast this would occur. Although both companies have faced global headwinds such as inflation quite well, and this data supports the long-term success of both.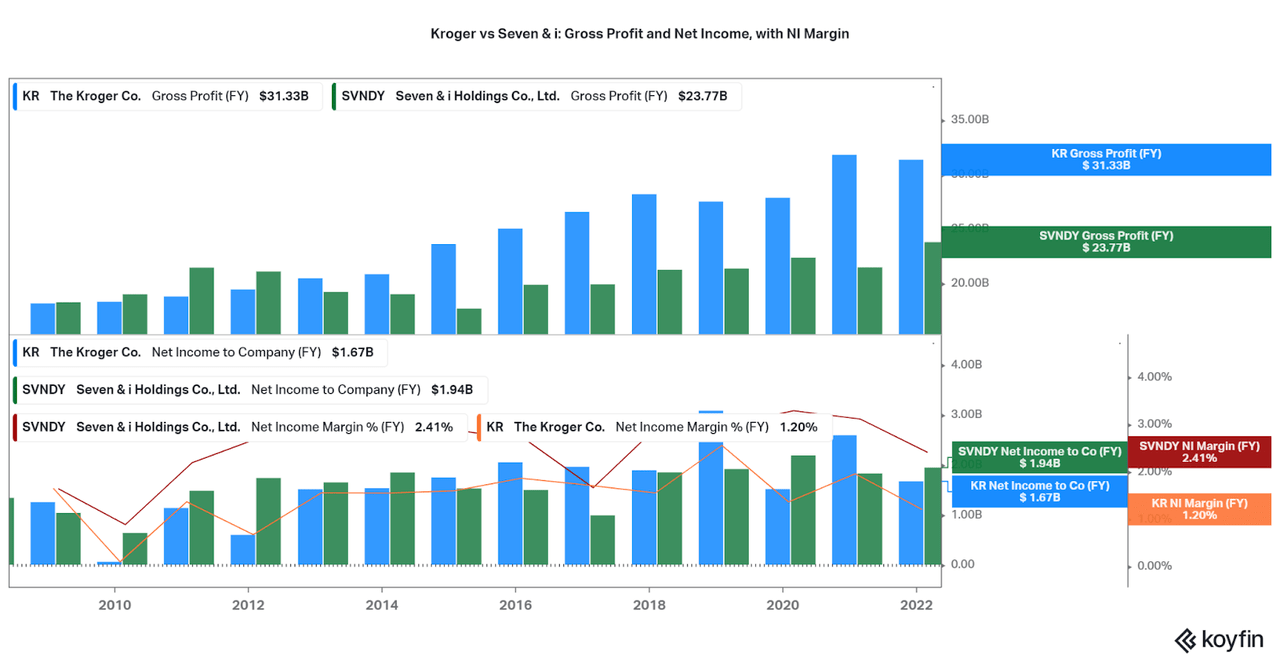 Due to cost cutting, both companies have significantly increased free cash flows since the pandemic began. Volatility with both is a risk to consider, but the pattern of positivity and per share growth is a positive sign for each. This also goes with the fact that both companies are pushing into online sales and other tech innovations, and so performance improvements at no visible detriment to performance is also a great sign.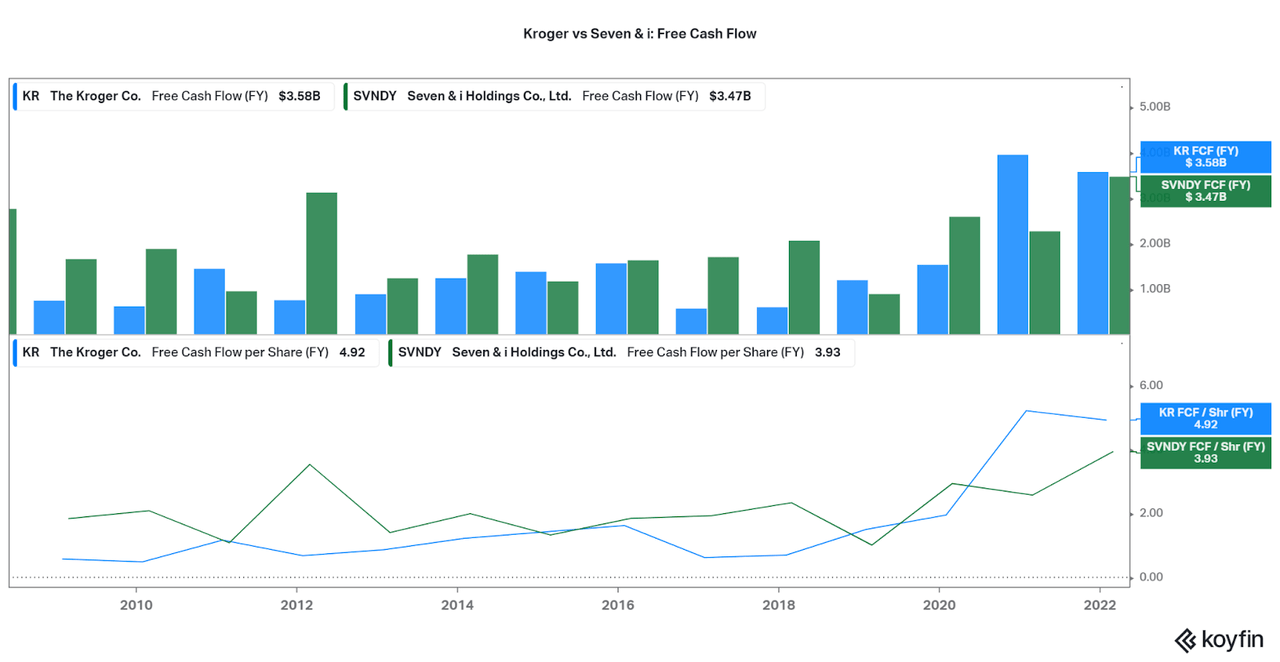 Investing Implications and Outlook
So the question now is how are both companies positioned in terms of share price and valuation. As tourism/travel increases, energy prices fall, and inflation subsides, both companies should see strong performance thanks to more visitors and higher margins. Unfortunately, any indication of weakness in consumers may lead investors to bail on consumer staples, even food retailers, and the price may go down. Therefore, it is best not to add shares at high points in valuation and share price, and this would mean that Kroger is a hold for now. Thankfully, 7 Eleven has underperformed for the past year and a half and the valuation is reaching a low point. Therefore, I expect a tradeable pattern to begin emerging soon.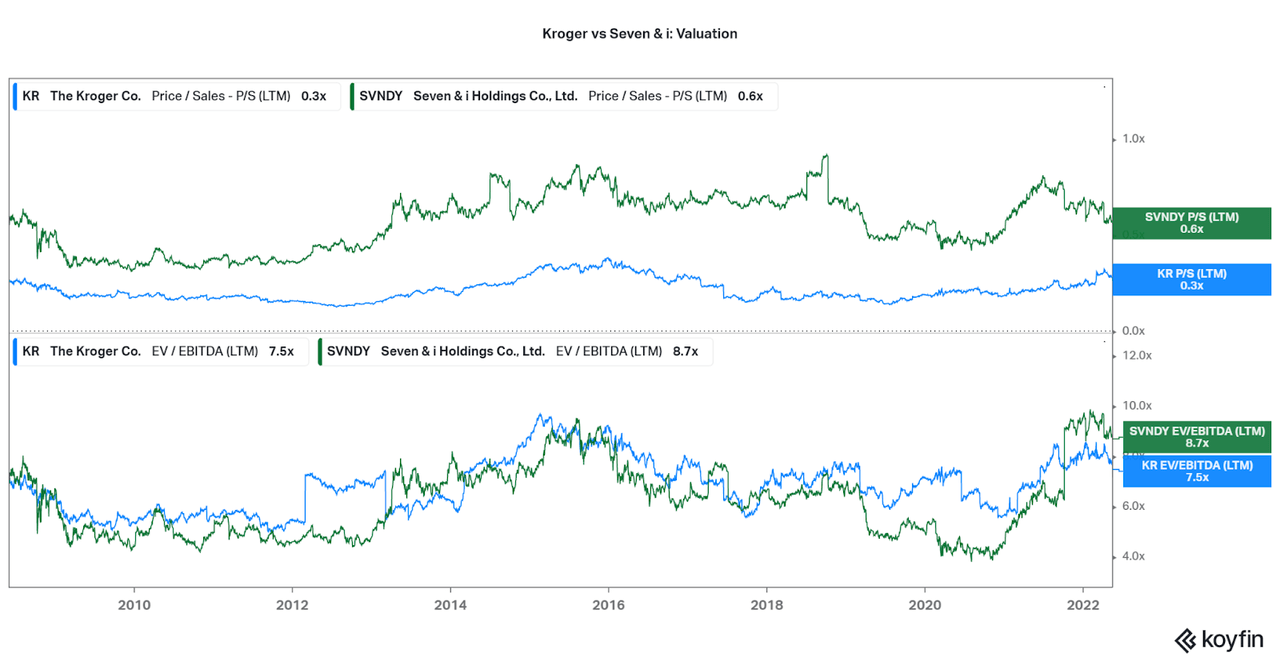 Thanks to the disconnect between KR and SVNDY (or the Tokyo shares if you have access), I believe it will be best to be overweight 7 Eleven and use profits from Kroger to do so. Soon enough, Kroger may be in a pattern of consolidation and underperformance, and 7 Eleven will likely be higher by that point (especially as the pandemic took a higher toll on 7 Eleven). This pattern may be able to continue in perpetuity, but I would never sell out of either holding due to the stability of both when compared to the general market. Both companies' shares have a beta between 0.42 and 0.43 and this suggests reduced volatility. Sometimes, it is best not to hold only volatile holdings and to have a stable base instead.
The comparative performance chart below shows the relation between the two share prices. As Kroger goes up, it faces weakness, and 7 Eleven outperforms for some time. Then, Kroger shoots up and outperforms for a short while. While passive investors don't need to time these moves, it is important to consider trimming KR at high points. I believe now would be one such time period as KR was up at least 10% over the past year, with highs reaching 50% last spring. Meanwhile, 7 Eleven is down 10% so far this year, leading to an opportunity to add shares occasionally.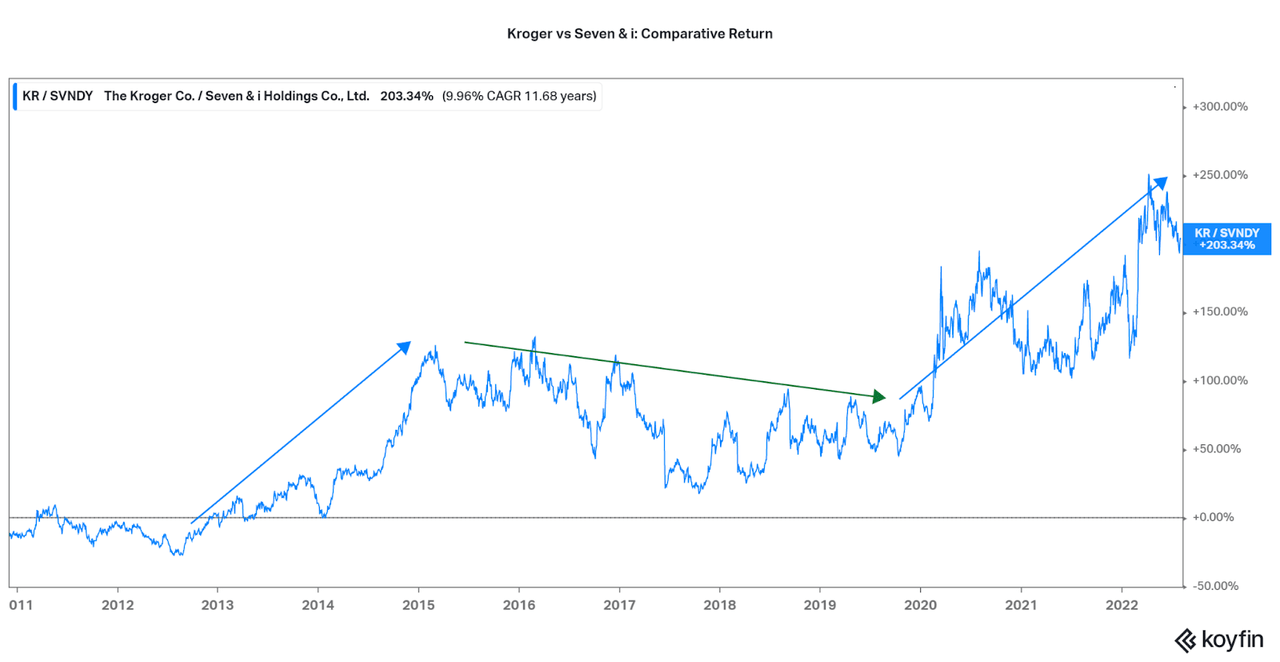 Conclusion
While neither Kroger or Seven & i Holdings are tremendous growth stocks that require detailed analysis of their valuation and performance, it is important to consider the patterns that have emerged. As both companies remain strong financially, have room to improve, and have secular long-term growth (7 Eleven is banking on international growth of sales, Japanese operational improvements), I find both remain solid buy and hold contenders for the future. Whether you decide to trim Kroger to repurchase 7 Eleven is up to you, but I find it may help drive equilibrium between asset weights and the overall returns of your portfolio. I hope this article has helped to convey this opportunity, and feel free to share your thoughts below.
Thanks for reading.